17 December, 2013
Long-distance hiker fulfils dream of hiking Trail from coast to coast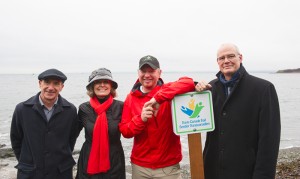 With his arrival at Clover Point, Victoria on Thursday, December 17, intrepid hiker and passionate Canadian, Dana Meise, fulfilled a childhood dream of exploring Canada.
After hiking for nearly six years and clocking over 16,000 kilometres–equivalent to walking across Canada twice–Dana Meise happily waded, boots and all, into the Pacific Ocean to mark his achievement.
"It has been an incredible journey," says Meise. "I have had the privilege of experiencing this country's many beautiful and diverse landscapes, but more importantly I have had the opportunity to meet so many incredible Canadians and to learn about their communities, their cultures and their unique stories. This trek has given me a deepened appreciation for my country and its people."
In addition to an enthusiastic group of Trail supporters, Victoria Mayor Dean Fortin, director, ministry of forests, lands and natural resource operations, Bill Marshall, and TCT president & CEO Deborah Apps were also on hand to extend a warm welcome.
"It takes a great deal of courage and tenacity to complete the kind of lone long-distance hike that Dana has undertaken–especially with no support team to call on," says Deborah Apps, president & CEO, Trans Canada Trail, "I would like to invite all Trail lovers to join me in congratulating Dana on his remarkable accomplishment. I would also like to thank him for his support of the Trans Canada Trail and for promoting it as an important resource for all Canadians."
Known affectionately as 'The Hiking Fool', Meise began his cross-country hiking expedition on May 6, 2008 when he set out from Cape Spear, Newfoundland and Labrador on his mission to be the first person to traverse the country on foot, from coast to coast to coast.
Next year, Meise intends to begin hiking the northern section of the Trail, which extends to the Arctic Ocean, and then plans to write a book and produce a documentary about his experiences.
Meise was motivated to follow his childhood dream and explore Canada after his father suffered a debilitating brain injury and could no longer walk.  Since then, Meise's life has been altered by the adventure of the unexpected and the magic of special moments, such as having his grandfather realize his own dream by joining him in Ottawa for the salute to the Fallen Solider. Along the way, he has also gained a deeper understanding of Canadians, which he looks forward to sharing.