17 July, 2014
Mrs. Harper and friends walk the Trail in Charlevoix, Quebec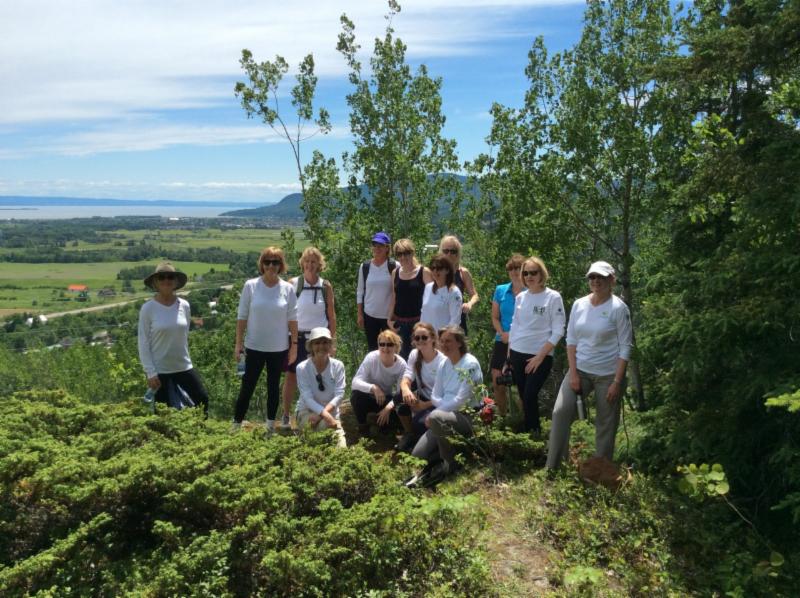 It's summer and the ideal time to enjoy hiking the Trans Canada Trail.
Outdoor enthusiast and Honorary TCT Campaign Chair Mrs. Laureen Harper did just that recently, when she and a group of fellow TCT supporters and friends trekked along TCT's Du Gouffre, Robert Leblanc and Les Florents trails in the picturesque Charlevoix region of Quebec.
All told, the group hiked a total of 16 kilometres from the Auberge la Grande Maison to the Maison d'affinage Maurice Dufour. They were accompanied by dedicated Trail guides Fanny Bouchard, Hélène Thivierge, Nancy Lavoie and Karine Horvath, as well as representatives from the Société des sentiers de la Capitale, Alain Marcoux, general manager and Réjean Allard, Charlevoix coordinator.
Along the way, the trekkers were treated to sunshine, breathtaking views and–at their rest stop–a sampling of the area's signature cheeses at the Maison d'affinage Maurice Dufour and at the Laiterie Charlevoix.
"We were delighted to show off this spectacular section of Trans Canada Trail, which demonstrates how trails can enhance communities. Either by giving residents access to free, recreational infrastructure, or by becoming an important part of the tourism infrastructure," said Deborah Apps, president & CEO of Trans Canada Trail.
The Du Gouffre, Robert Leblanc and Les Florents trails run near the city of Baie-Saint-Paul, nestled on the north shore of the St. Lawrence River. It is also where Quebec's world-renowned Cirque du Soleil originated in the early 1980's.
Now, the city is home to, among many things, roughly 7,000 residents, stunning landscapes, sumptuous Charlevoix cheeses, and a beautiful stretch of the Trans Canada Trail.
The Trans Canada Trail in Quebec is currently 96.3 per cent complete, with 55 kilometres left to connect by 2017. Quebec's section of the TCT is overseen by the Conseil québécois du sentier Transcanadien, which works tirelessly in support of TCT development in the province.
Trail development across Canada would not be possible without the support of TCT's many generous donors and all levels of government.