1 April, 2016
Hope and healing on The Great Trail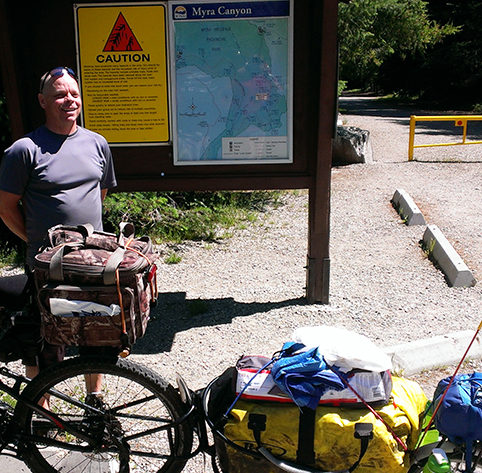 One man's path to inner peace took him across British Columbia…twice
Trevor Hodgson is an avid cyclist who hails from Kelowna, in BC's Okanagan region, and he suffers from bipolar disorder. Also known as manic depression, bipolar depression is a mental illness characterized by severe high and low moods.
At a particularly low point in 2014 when Trevor was struggling with an episode of depression and suicidal thoughts, he found hope and purpose in cycling The Great Trail in his home province of British Columbia. "I can't say that riding the Trail saved my life but I will say it gave me a reason to live," says Trevor. "Now, riding the Trail is a way for me to stay physically fit, manage my weight and combat depression."
Trevor travels alone, riding a fully suspended mountain bike hitched to a single wheel trailer with between 110 to 130 lbs of camping gear, GPS, smartphone, water, and enough food to provide nourishment for between 3 to 7 day trips. "Water is the most important thing, and I have run low a couple of times," says Trevor.
His biggest challenge? Food. "Covering large remote distances means you want to be sure you have enough food, but figuring out how much food to carry takes some guess work," says Trevor. "Riding eight or more hours a day pulling a trailer burns a lot of calories and creates a huge appetite."
Aside from staying properly nourished and hydrated, weather can also present a major challenge. During his last trip, Trevor was overcome by heat sickness several times. When it wasn't the heat, it was the quiet. "The silence is unnerving for me," Trevor says. "It takes some time to adjust to the quiet of the wilderness."
For Trevor, the payoff for these challenges is the beauty of the natural landscapes he finds himself in. "Spectacular mountains, lakes, rivers, and a beautiful coastline too," Trevor says. "Oh, and did I mention the mountains?"
Bragging rights
Over the past eight years and five "backcountry mountain bike adventures" as he refers to them, Trevor has cycled the Trail across BC twice, and accumulated roughly 9,000 kilometres of travels. His most memorable journeys are BC's three mountain pass trails: Pale Face Pass (Chilliwack Valley Trail & Silverhope Creek Trail), Grey Creek Pass (Balfour to Kimberley) and Elk Pass (Elkford to Elk Pass), trails that are not for the faint of heart. "As spectacularly rewarding as they are physically challenging," says Trevor of his experiences on mountain pass trails. "Completing any of the three passes in either direction is an achievement worth bragging about, and I have completed all of them in both directions."
Memories and Must-See Trails
Of the many fond memories Trevor has accumulated on his BC cycling adventures over the years, some stand out more than others. "Three horses ran alongside me as I passed by their property, and twice I encountered wild horses along the Trail on Grey Creek pass and near Penticton in the Okanagan." His pick for top Trail section in BC? "Myra Canyon to Penticton and the Kettle Valley Rail Trail, and not just because I live in the Okanagan!" Trevor says. "It's an easy day ride down a gentle hill through the trestles of Myra Canyon, with views of beautiful mountain lakes, historic rock ovens, vineyards, and spectacular views of the Okanagan Valley."
On the Horizon
For Trevor's next adventure, he plans to ride the Trail's northern route to Inuvik and back, starting in Myra Canyon through BC, Alberta, the Yukon, and into the Northwest Territories to Inuvik on The Great Trail. After that,  Trevor intends to ride the entire Trail from West to East.
"It has been one of the greatest pleasures of my life to ride The Great Trail," says Trevor. "Because of my bipolar disorder, I'm a loner and connecting with people is not easy for me, but when I travel the  Trail, I experience a connection to this land that opens me up and fills me with a certain life affirming energy."