1 February, 2016
My Canadian Journey on the TCT: Nova Scotia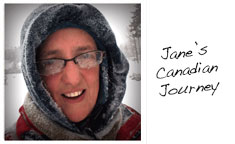 One woman's fitness plan has become a quest to walk the entire Trans Canada Trail…without having to leave the province of Nova Scotia.
Meet Jane Maddin, who is using the Trans Canada Trail to walk across Canada-virtually. The retired library technician from Truro has been logging her daily walks for the past three years (both outdoor Trail and indoor treadmill) on the Virtual Walk the Trail section of TCT's interactive map.
Cick  HERE read the full story.