26 February, 2021
New national partnership focuses on improving accessibility on The Great Trail of Canada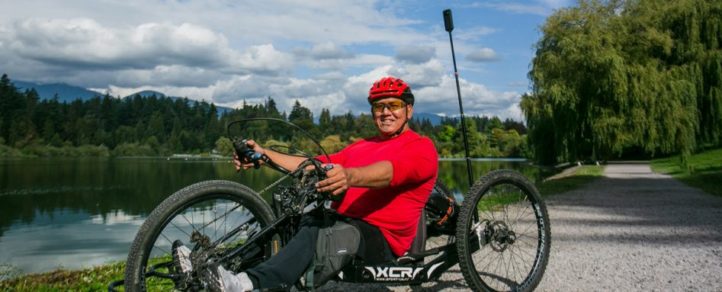 Trans Canada Trail (TCT) and AccessNow are excited to announce a new partnership aimed at increasing accessibility on trails across the country. By working together on initiatives that lead to information being shared via the AccessNow app, Canadians will be able to discover barrier-free routes as well as identify areas where barriers still exist so they can be addressed, resulting in increased accessibility along The Great Trail.
---
Canadian Paralympians and Para athletes join AccessNow and Trans Canada Trail to provide valuable accessibility feedback on trails across Canada
Trans Canada Trail and AccessNow are thrilled to announce that they are working together with the Canadian Paralympic Committee and that Paralympians and Para athletes are working to map the accessibility of trails across the country. The project will use the AccessNow platform and technology to highlight lived experiences and provide people with a navigational resource to discover trail accessibility.
"Trans Canada Trail is delighted to announce this exciting partnership and to be part of this important initiative which will enhance accessibility along sections of The Great Trail of Canada. We are honoured to work with AccessNow and with Paralympic and Para athletes who are helping us to ensure that we include the perspectives of people with a broad range of disabilities in our Trail project decisions," said Eleanor McMahon, President & CEO of Trans Canada Trail.
Sections of the Trail being mapped and reviewed:
---
Banff Legacy Trail, Banff, AB
Bow River Pathway, Calgary, AB (Cody Dolan)
Capital Pathway, Ottawa, ON (Camille Bérubé)
Confederation Trail, Charlottetown, PEI (Alan Stanley)
The Forks and North Winnipeg Parkway, Winnipeg, MB (Colin Mathieson)
Western Loop – Harvest Moon Trailway, Annapolis Valley, NS (Ben Brown)
Les Grandes-Fourches, Sherbrooke, QC (Diane Roy)
Millennium Trail Connector, Whitehorse, YT (Tanelle Bolt)
Pan Am Path, Toronto, ON (Andrew Haley)
Quidi Vidi Lake Trail, St. John's, NL (Liam Hickey)
Riverfront Trail, Moncton, NB (Matthew Kinnie)
Stanley Park, Vancouver, BC (Richard Peter)
Wascana Valley Trails, Regina, SK (Jessica Frotten)
---
"Canadians have told us that during these difficult times, they value access to natural spaces to stay active, take care of their mental health, and socially connect with others while respecting physical distancing and public health directives. This partnership is incredibly important especially now as trails have become a lifeline for Canadians," said Eleanor McMahon.