25 September, 2013
New section of TCT commemorates brave trek of Canadian heroine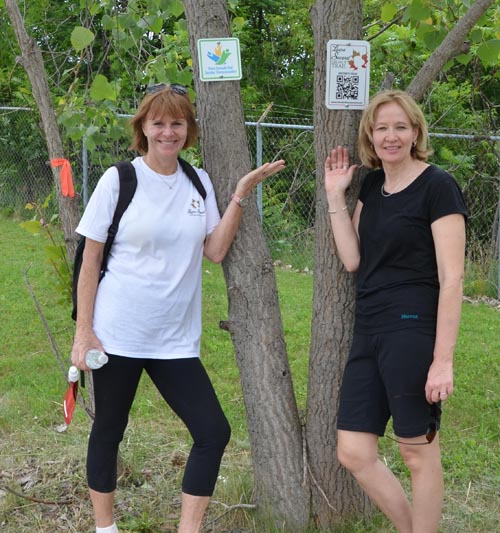 This summer, the TCT was very proud to announce the addition of a historic Canadian route to its national network of trails. It was under a blazing summer sun in June of 1813 that Laura Secord bravely walked, hiked, stumbled and crawled 32 kilometres through difficult terrain — her sole objective to warn British troops of an impending attack by the Americans.
The path of Secord's arduous trek was officially recognized as Trans Canada Trail during an event hosted by the Friends of Laura Secord on June 21, the eve of a day-long commemorative walk that saw a bevy of enthusiastic participants pay tribute to the Canadian heroine.
"We are delighted that Laura's route is now an official part of the Trans Canada Trail," said Caroline McCormick, president of Friends of Laura Secord and the great, great, great granddaughter of Laura Secord. "Adding the story of Laura's journey to the many other historic paths that the Trail highlights across the country reinforces the importance of the role she played in Canada's development as a nation."
The day before Secord embarked on her trek, her homestead had been taken over by American soldiers, whose plans she had overheard. When Secord set out through American-occupied territory, she knew full well that her mission could mean her death; punishment for spies in the 1800s was death by firing squad. To avoid being apprehended, she avoided the main roads, which meant beating through wild underbrush and keeping an eye out for wolves, cougars and snakes.
When Secord arrived at her destination 16 hours later, it is reported that she was so exhausted she barely managed to divulge the Americans' plans before collapsing. Thanks to her bravery, the British and their Iroquois allies repelled the invading Americans at Beaver Dams, keeping control of the Niagara Peninsula.
In tribute to Secord, several TCT representatives participated in the Laura Secord Commemorative Walk, notably Mrs. Laureen Harper, honorary chair of the TCT Chapter 150 campaign, and Valerie Pringle, co-chair of the TCT Foundation and spokesperson for the Friends of Laura Secord.
"It's a beautiful trail, with such beautiful vistas, but along the way we were constantly aware of the incredible risks Laura Secord would have faced travelling on her own and on foot," said Mrs. Harper. "She must have been so scared, thinking about what could happen to her if she was captured, but also what would happen to her family and so many other British loyalists if she was not successful. But she never stopped and it's thanks to her courage that the Niagara Peninsula was reclaimed, a significant victory in the development of Canada."
The 32-kilometre section of the Trans Canada Trail, connecting the Laura Secord Homestead to DeCew House, approximates Secord's 1813 route and travels through a variety of landscapes, including ancient forested trails, urban parks and city sidewalks.
"This is another example of how the Trail does more than physically connect communities," said Pringle. "Historic routes like the Laura Secord Legacy Trail allow us to walk into history, reminding us of important events in Canadian history and deepen our understanding of what it means to be Canadian."
Deborah Apps, TCT president & CEO, and Simone Hicken, TCT vice-president of resource development, also participated in the Trail unveiling and commemorative walk on June 22nd, exactly 200 years to the day since Secord walked out her door and into Canadian history.
More than 1,000 Trail users commemorated Secord's trek this summer. The TCT commends all walkers for their tribute to a great Canadian heroine.
Other segments of the Trans Canada Trail of historic significance include: the Path of the Paddle in Northern Ontario, which follows routes the voyageurs canoed and portaged in the 18th and 19th centuries; the Cowichan Valley Trail on Vancouver Island, whose majestic Kinsol Trestle harkens back to Canada's railway history; and the Crocus Trail in Manitoba, which travels right by each of the "Five Prairie Giants", the Inglis Grain Elevators National Historic Sites, which are an architectural symbol of Western Canadian agriculture and the Prairies.