22 August, 2016
North Mountain Celebrates Its First Access Point to the Bras D'or Water Route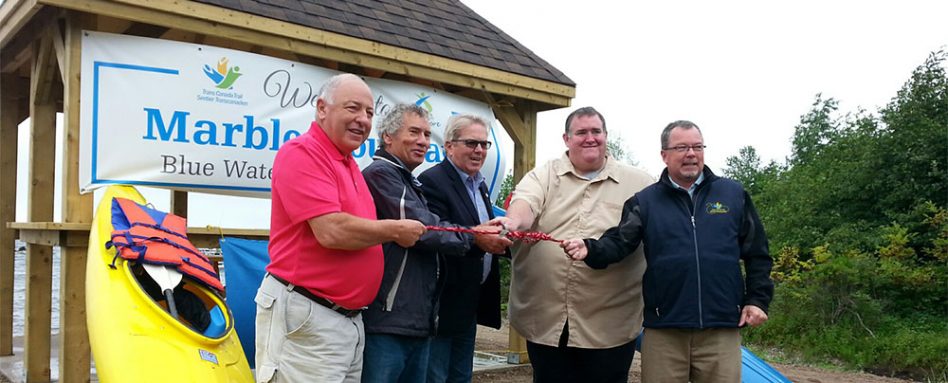 Bill Legge (North Mountain Culture and Recreation Association President), Roger Cuzner (Member of Parliament for Cape Breton), Dwayne MacDonald (Inverness County Councillor District 6), George Chant (North Mountain Culture and Recreation Association Past President) and Blaise MacEachern (Nova Scotia Trail Federation)
The North Mountain Cultural and Recreation Association (NMCRA) officially opened the Marble Mountain Access Point to The Great Trail Bras d'Or Lake Water Route on Sunday, August 14, 2016. This marks the first access point to officially open as part of the Great Trail on the Bras d'Or. The event was held in conjunction with the annual Marble Mountain Family Weekend.
The project was made possible through the efforts and contributions of local volunteers and was partially funded by Trans Canada Trail, via a $1 million donation from RBC to support the development of three signatures paddling routes in key areas of The Great Trail's country-wide network. The Sea to Sky Marine Trail (British Columbia) and Chief Whitecap Waterway (Saskatchewan) were completed and officially opened to the public in 2015, and Bras d'Or Lake Water Route.
RBC's contribution is helping to fund the development of access points along the over 350-kilometre Bras D'Or Lake water route, including the creation and installation of interpretive and way-finding signage, picnic shelters and improvements for paddlers, providing residents and tourists with wonderful opportunities to participate in safe, healthy, affordable recreation while enjoying the natural beauty of Cape Breton Island.
Bras d'Or Lake is located in the centre of Cape Breton Island, Nova Scotia, an inland sea with areas where salt and fresh water mix. When the Bras d'Or Lake Water Route is complete, it will offer more than 2 dozen water access points, each offering something different. Marble Mountain is the name of the village that was home to a marble quarry in operation for over 50 years on the side of North Mountain. Today, the landscape is marked by brilliant white remains of the quarry that can be seen when entering the community.