4 April, 2014
Nova Scotia TCT supporters plan for 2017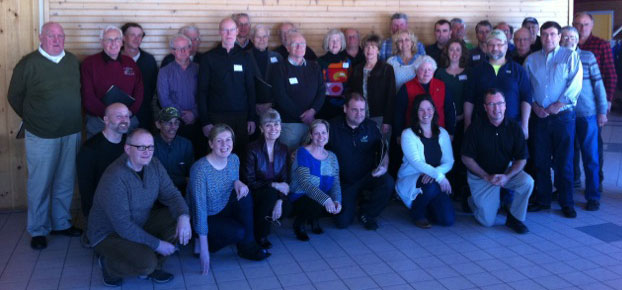 Passionate Trans Canada Trail volunteers and supporters from across Nova Scotia gathered at the Gaelic College in St. Anns March 21-22 to assist NS Trails in finalizing plans for the Trans Canada Trail (TCT) route through the province.
Deborah Apps, TCT president & CEO, attended the event and thanked the attendees for their efforts to connect the Trail in Nova Scotia by 2017, the 150th anniversary of Confederation.
"Our Nova Scotia partner NS Trails and all our Trail supporters in the province are vital to connecting the TCT in Nova Scotia and to helping us reach our 2017 connection goal," said Apps.
A map of the proposed Trans Canada Trail route in Nova Scotia is available on the NS Trails website www.novascotiatrails.com.
NS Trails President Holly Woodill encourages all Nova Scotians living near the TCT in the province to join this exciting project.
"We are looking to establish partnerships with individuals, organizations and corporations who believe in and want to align themselves with this national legacy project," said Woodill.
"The level of energy and enthusiasm experienced this weekend is exactly the momentum NS Trails needs to connect this national legacy project, which is currently only 42 per cent complete in Nova Scotia," said Blaise MacEachern, chair of the NS Trails TCT Committee. "Our volunteers and stakeholders are clearly committed to the project and we are confident connection can be achieved in time for the national celebrations in 3
years. "
NS Trails, the provincial partner for the TCT in Nova Scotia, is celebrating its 25th anniversary this year.
Anyone interested in helping to connect the TCT in Nova Scotia is asked to contact NS Trails Executive Director, Vanda Jackson by phone at (902) 718-6424 or email 
vanda@novascotiatrails.com
.