25 September, 2014
Official Opening of the Frontenac K&P Trail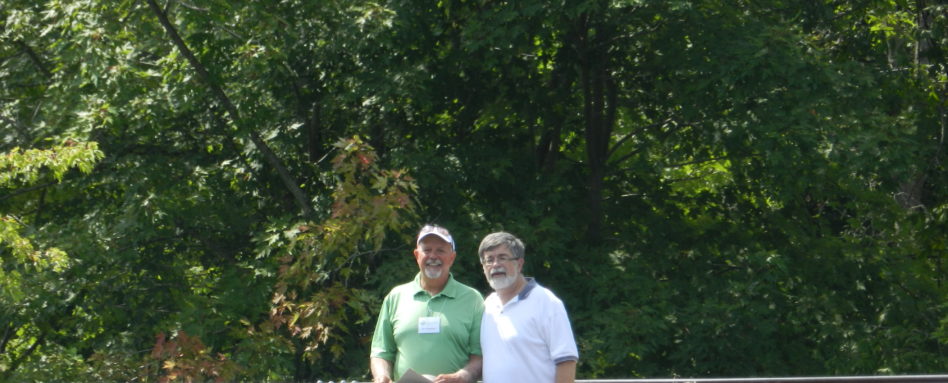 Jim Paterson (Pan Am Legacy Trails Coordinator, TCT Ontario);
Al MacPherson (Chair, TCT Ontario)
On August 9, representatives from the government of Ontario, the Trans Canada Trail (TCT) and Frontenac County celebrated the official opening of the Frontenac K&P Trail with a ribbon-cutting ceremony and free horse-drawn wagon rides along the Trail.
"This stretch of the Frontenac K&P Trail cuts through a beautiful area of the Frontenacs," said Bud Clayton, Warden of the County of Frontenac. "Heading north from Harrowsmith, users venture through agricultural land, wooded areas, rock cuts, and wetlands before coming to the Hardwood Creek Bridge, with its beautiful views, then they can walk on through the village of Verona."
The development of this section of the Trail was made possible thanks in part to funding received from the TCT and the government of Ontario through the Pan Am/Parapan Am Trails initiative.
"The Trans Canada Trail is delighted to have been able to support the development of this section of greenway trail that means so much to people living in the Frontenac area," said Al MacPherson, Chair of Trans Canada Trail Ontario, who spoke on behalf of the TCT at the event. "It helps bring us closer to our goal of connecting our national Trail and Canadians by 2017."
"Ontario is helping close the gaps along Ontario's Trans Canada Trail as a major legacy investment of the 2015 Games," said Michael Coteau, Minister of Tourism, Culture and Sport and Minister Responsible for the 2015 Pan Am/Parapan Am Games. "Once complete, the Pan Am/Parapan Am trails will connect Frontenac County to communities across the province. An incredible Games legacy, the trails will promote healthy lifestyles while providing valuable recreational and active transportation opportunities for Ontarians of all ages and abilities."
As a part of the government of Ontario's Legacy Strategy for the 2015 Games, Ontario is investing $3.5M in the Pan Am/Parapan Am trails. Part of this funding will be used to bridge 254 km of gaps along the Trans Canada Trail in Ontario and provide a continuous route along the Trans Canada Trail of over 2,000 km, from Windsor to Ottawa and from Fort Erie to Huntsville.