26 July, 2016
Q & A with TCT Partner – Trans Canada Trail Ontario (TCTO) Chair, Al MacPherson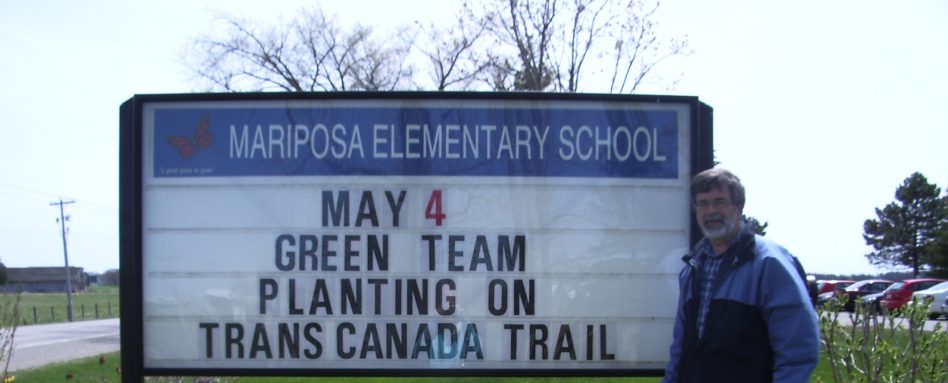 Q: A big part of what we're doing at the TCT is working with partners at the local level to get The Great Trail connected across the country by 2017, the 150th anniversary of Canadian Confederation. How does that play into the work you do?
A: TCTO works with over 75 local Trail groups across the province. We work with them in getting Trail projects from ideas all the way to completion. This translates into helping Trail groups develop project plans for new or existing trails, review project costing and develop funding requests; and we assist them in ordering signs and then follow up to ensure signs are installed. We also ensure that funds are spent appropriately and reports are submitted. TCTO works with the provincial government and municipal governments for approvals and requesting funding…we do it all!
Q: How is The Great Trail most commonly used in northern Ontario? Southern Ontario?
A: Geography and population are major factors in how the Trail is used in Ontario. Northern Ontario has an amazingly beautiful and rugged natural environment: rocks, water and trees, but a small population. 85% of the northern Ontario is public land and the traditional mode of travel has been by water – canoes and kayaks. It made sense to establish 1,900 kilometres of TCT waterways for use by residents and visitors to this area. In contrast, southern Ontario has a population of approximately 12 million people, with 13% of the land in public ownership, making for a blend of natural and untouched landscapes alongside urban and cultural environments. The TCT works with many different stakeholders (municipalities, parks, conservation authorities, not-for-profit organizations, etc.) in order to knit together a continuous route for the Trail. The Trail is heavily used by residents and is a major tourist attraction, as it travels through and connects to large urban areas. The majority of use is walking/hiking, cycling and horseback riding.
Q: Tell us about the history of The Great Trail in Ontario
A: Ontario was at the planning table in 1992 when TCT was launched, in order to contribute to this vision, and has been active ever since. The Ontario Trails Council was the lead for the development of the Trail until approximately 2001. At that time, TCT hired two employees from Ontario to manage the development of the Trail in the province. In 2003, a not-for-profit organization was created – Trans Canada Trail Ontario. A Board of Directors was established and more staff were hired to administer and work with local trail partners to continue developing the Trail. There are now five part-time consultants who work to make connection happen in Ontario.
Q: Al's favourite section(s) of The Great Trail in Ontario and why
A: The Kawartha Trans Canada Trail – City of Kawartha Lakes- 53 km – this section travels through three distinct landscapes – urban, rural farmland and natural environment; it has an amazing trestle bridge spanning over Buttermilk Valley. Views are fantastic, especially during the fall with beautiful colours on the trees; lots of access points along the Trail and easily accessible by car. The Trail itself is relatively flat, accessible for those with disabilities, well-signed and well-maintained. As well, it connects to TCT in the County of Durham, which runs along a large wetland for many kilometres, and in the east, toward the City and rural area of Peterborough with its drumlins, kames and Trent Severn waterway. Just a beautiful area in southern Ontario.
Q: What are some of the biggest challenges involved in building the Trail in Ontario?
A: Keeping the motivation/commitment going for our local trail partners – making the Trail a priority for development – for many it is just another thing that needs to be done along with all the other work they have to do; keeping focus on connection as there are many other things that need to be done or could be done to enhance the the Trail. Recognizing that the needs for the Trail in northern Ontario are different than in southern Ontario due to population and geography; trying to connect over 5,000 kilometres with limited staff.
Q: What are the challenges of maintaining the Trail?
A: The Trail in Ontario is owned and managed by the local trail partner – neither the TCT nor TCTO owns or manages any of the Trail, thus our work has been to get local trail partners to agree to have their existing trail or newly created trail become part of the "spine" or main route. Maintenance is the responsibility of local Trail partners. In some cases, as with waterways, there is less maintenance but work is required for portages and campsites in remote locations. . Other Trail sections, such as greenway require regular routine maintenance due to heavy use. Funds will be a major challenge to assist the local managers to keep their part of The Great Trail connected, safe and operational.
Q: What is the best part of your job?
A: Realizing that every day, TCTO efforts will have left a legacy behind for future generations. We accomplished something that most people felt was impossible to do in Ontario due to the associated cost and size of the province. The challenge of making it happen drives me to keep going as I believe in the vision and I am a proud Canadian, and The Great Trail allows me to contribute to connecting all of Canada.