21 April, 2017
Raise a glass — and funds — for The Great Trail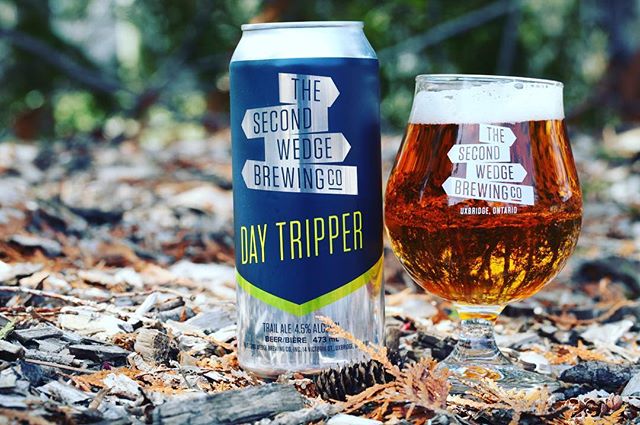 Daytripper Trail Ale – what a fun play on words!
This new pale ale is not just a refreshing beverage from The Second Wedge Brewing Company in Uxbridge, Ontario. It's also a novel fundraising initiative to support The Great Trail and the 150th anniversary of Confederation.
"Thirty cents from every can sold will go directly to Trans Canada Trail," says Joanne Richter, who opened The Second Wedge Brewing Company with her partner, Rob Garrard, in December 2015. "We love what TCT is doing, connecting the country. We also love their stories from every province and territory."
Daytripper Trail Ale is a low-alcohol pale ale (4.5 %).
"It's approachable, with flavours of citrus and pine," notes Rob, who spent 30 years as a cinematographer in television before shifting careers. "We're using floor-malted barley, which is a labour-intensive method of malting done by a company in Belleville. Our hops and our yeast are made in Canada, too."
It's the brewery's first canned beer, for portability. The shrink sleeve shares branding with The Great Trail, as a "proud sponsor", so people will be alerted to the fundraising component of their purchase.
"The ale's refreshing quality – with the citrus and low alcohol – makes it a natural fit for a post-Trail outing beverage," notes Joanne, who previously worked in the publishing industry in Toronto.
Joanne and Rob moved to Uxbridge 14 years ago, after spending weekends visiting Rob's sister in the area. They've been hiking, running and cross-country skiing on the Durham Region Trail for more than 20 years.
"The Trail is walkable from our house," says Joanne. "It's close to residential areas, in parts, but it also goes through farmland, by ponds. We see beavers, wild flowers and signs of coyotes. Every day, we walk our dog Sadie on The Great Trail. It's where we find peace of mind."
When Joanne and Rob opened the brewery, less than two years ago, it was a big career change for them both. They were home brewers and foodies who decided to take a leap. Now the brewery, the tasting room, bottle shop and beer garden are their full-time passions.
"People who use the Trail – they're our crowd," says Joanne. "We believe in it. It's an exciting year for the Trail and we want to be part of the legacy that will be enjoyed by generations to come."
Besides their own retail store in Uxbridge, they have plans to distribute the cans to grocery stores, and direct to consumers through mail order across Ontario.
The Second Wedge Brewing Co.
14 Victoria Street
Uxbridge, ON
L9P 1B1
joanne@thesecondwedge.ca
brewery: (905) 852-3232
thesecondwedge.ca