5 October, 2016
Saskatchewan's Section of The Great Trail Now Connected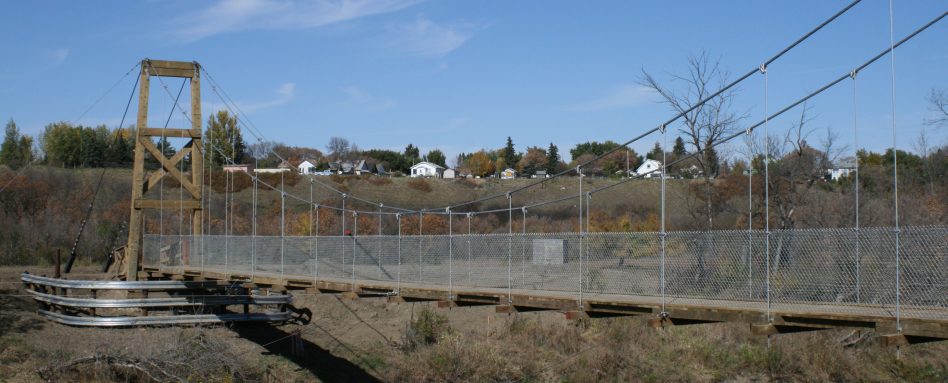 Trans Canada Trail Pedestrian Bridge in Moose Jaw. Photo by Wandering Whimzy
Momentum building as Trans Canada Trail works to connect The Great Trail for Canada 150 celebrations in 2017
Trans Canada Trail (TCT) is thrilled to announce that Saskatchewan's section of The Great Trail is now connected, province-wide, making it Canada's fourth province or territory — after Newfoundland & Labrador, Prince Edward Island and Yukon — to reach this milestone. This achievement was marked at a public celebration in Moose Jaw on October 1, 2016, in collaboration with the Wakamow Valley Authority in Moose Jaw, in conjunction with the unveiling of the new Wakamow Valley Suspension Bridge, part of The Great Trail.
"The Great Trail has become a living symbol of national collaboration, as we work with partners,  volunteers, donors and all levels of government to connect the Trail country-wide for Canada 150 celebrations in 2017. With Saskatchewan's section now connected, we are much closer to making this bold dream — launched in 1992 to celebrate Canada's 125th — a reality," says Deborah Apps, TCT president & CEO. "Saskatchewan can be proud of being the fourth province or territory in Canada to connect their section of the Trail, and we could not have done it without that truly Canadian spirit of helping one another and working together."
TCT partners, volunteers, donors and government supporters were in attendance, including Ralph Goodale, Minister of Public Safety and Emergency Preparedness (Regina–Wascana). Representatives from the Canadian Armed Forces were also present, including reservists from 38 Combat Engineer Regiment, 38 Canadian Brigade Group, based out of Saskatoon and Winnipeg, who were responsible for the construction of the Wakamow Valley Suspension Bridge, funded by Trans Canada Trail, the City of Moose Jaw and the Wakamow Valley Development Fund. The bridge was a key component in fully connecting The Great Trail in the province of Saskatchewan.
TCT is supported by financial contributions from donors in both the public and private sectors, who believe in TCT's commitment to investing in vital infrastructure for safe, affordable outdoor activity, and to fostering an appreciation for Canada's spectacular natural heritage. The following TCT donors played an integral role in connecting Saskatchewan's section of The Great Trail:
All gifts to TCT are matched by the Government of Canada, as part of a funding program to support TCT's 2017 national connection goal; the Federal Government contributes one dollar for every two raised, up to $25 million. This support allows for Trail development across the country, benefitting Canadians and strengthening communities.
Every Canadian province and territory is home to its own section of The Great Trail, which is owned and operated at the local level. Formed in 2014, the Saskatchewan Vision 2017 Trail Committee is comprised of dedicated volunteers from across Saskatchewan, with representation from provincial and municipal governments, Indigenous peoples and user groups. The Committee has been the driving force in connecting The Great Trail across the province.
Now connected, The Great Trail route in Saskatchewan spans nearly 1,700 kilometres between the Alberta and Manitoba borders. From prairie to pine, and waterway to greenway, Trail users can experience rural and urban municipalities, ferry crossings and several of Saskatchewan's provincial parks.