8 December, 2015
Small community has big plans for the Trail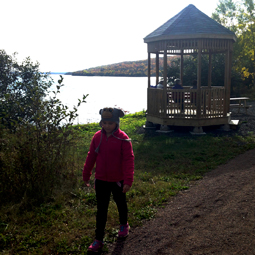 Enjoying a walk on the Scotia Trail in Mulgrave, Nova Scotia. Photo: Angela Morin
The Town of Mulgrave sits on the edge of the Strait of Canso in Guysborough County, Nova Scotia, roughly 300 kilometres east of Halifax, and is home to about 800 residents who now have a brand new stretch of the Trans Canada Trail (TCT) to call their own.
On October 24, 2015, TCT and its provincial partner Nova Scotia Trails Federation (NS Trails) celebrated the official opening of a 1.7-kilometre stretch of the Scotia Trail, the first phase of a five-kilometre greenway trail connection across the town.
Scotia Trail is being built on abandoned rail line, a vestige from when Mulgrave was a railroad terminal and ferrying gateway in the early 1900s.
Now, residents and visitors can take in spectacular views of the Canso Strait and the Atlantic Ocean, all while taking a leisurely walk through town. Runners, cyclists and roller-bladers also enjoy using the Trail.
"Mulgrave is a small community and this trail acts as an active transportation corridor through the centre of the town," said Heather Brennan, recreation and physical activity coordinator for the Town of Mulgrave. "It's just amazing how many people are parking at the head of the trail and walking it. Everybody loves it and they keep asking when we are going to expand it."
TCT Atlantic Region Coordinator Angela Morin spoke to Trail lovers gathered at the opening celebration to thank volunteers for their hard work and dedication, and offer special recognition to TCT's provincial Trail partner. "NS Trails has been crucial in getting the TCT connected in Nova Scotia. They take every opportunity to encourage all Nova Scotians to volunteer or donate to help build the Trail for 2017, and onward."
NS Trails has been TCT's dedicated provincial partner since the Trail's beginnings in 1992, working diligently with local organizations to connect the TCT. The province of Nova Scotia has 600 kilometres of gaps to connect in order to reach 100 per cent connection alongside the rest of Canada by 2017.
"This is an exciting time. We gain more momentum and get closer to meeting our connection goal with every Trans Canada Trail opening we celebrate here in Nova Scotia," said Blaise MacEachern, Chair of NS Trails TCT Committee. "Grassroots legacy trail projects like this one in Mulgrave are success stories made possible by the commitment of our community volunteers and municipalities."