29 November, 2016
Solo female adventurer Sarah Jackson talks safety on the Trail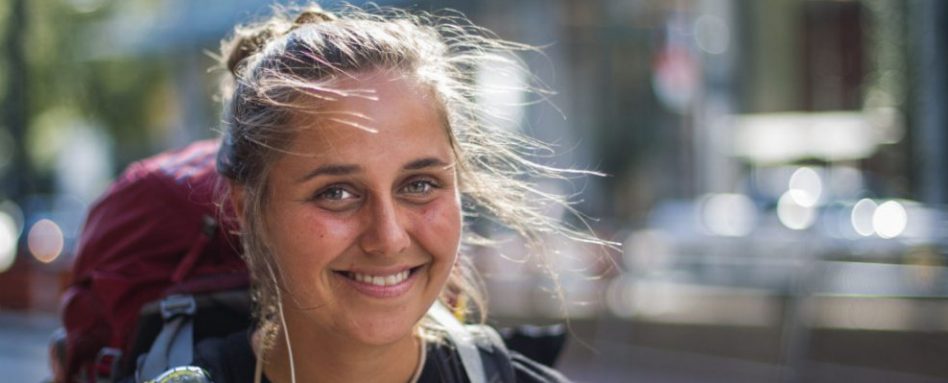 In a few months and several thousand more kilometres, Sarah Jackson may be the first woman to travel The Great Trail from coast to coast. Sarah shares moments from her adventure on her blog, as she meets new people every day of her journey. One of the questions that she is asked repeatedly is regarding her feeling "safe as a woman" alone on the Trail.
It's often the first question asked by reporters; if Sarah has ever felt unsafe on the Trail because of her gender. She's been cautioned by friends to take extra care on the road, and been on the receiving end of her parents' go-to mantra of "never walk alone," although Sarah admits to pondering whether this mantra would apply as emphatically if it were her brother embarking on a similar journey.
"The truth is, being a woman traveller – solo or otherwise – absolutely has its disadvantages," Sarah says. "This is not unique to us travelling alone. I just call it 'being a woman.'"
For Sarah, her safety is no more or less in question on the Trail than anywhere else she ventures. "When people ask whether I am ever scared on the Trail, whether I ever feel unsafe because of my gender, the answer is an unequivocal 'yes,'" Sarah says. "Because how I feel on the Trail is an almost perfect reflection of how I feel in everyday life."
The silver lining: Sarah will keep on keepin' on. "There is added risk to walking the Trail as a woman, just like there is added risk to living life as a woman," she says. "I walk in spite of it, and I walk because of it."
Read Sarah's full blog post HERE.
Here are some tips for safer travels on the Trail:
Keep important items like trail maps, guidebooks, GPS and cell phones in a waterproof Ziploc bag.
Take plenty of water – 1 to 3 litres per person. Staying hydrated will help maintain your energy level.
Dress in layers, so you're prepared for unexpected changes in weather.
Start early so that you have plenty of time to enjoy your adventure, ensuring that you finish well before dark.
Pack high-energy snacks like granola, energy or fruit bars, trail mixes, fruit, candy, beef jerky, bagels, pita bread, etc.
Bring a whistle or other noisemaker. Three short whistle blasts mean you are in trouble and need assistance. It can also come in handy to scare off animals.
Tell someone of your plans and when you expect to return.