31 October, 2006
Bronfman Trailhead sign unveiled in St. Lambert, QC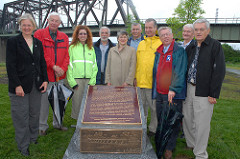 The Trans Canada Trail celebrated a landmark occasion on June 3rd with the unveiling of the first-ever Trailhead sign in St. Lambert, Quebec. The sign, which features a large map of the Trail, shows where you are, route highlights, distance, amenities and safety information along the way.
Five more Trailhead signs are currently in the works. Locations for the signs include Borden, Prince Edward Island and Port-aux-Basques, Newfoundland, with others to be determined.
The Trailhead program is an extension of the Trans Canada Trail Discovery Program, an educational program that currently features some 1,250 interpretive panels along the Trail.
We'd like to extend a warm thank you to the Stephen R. Bronfman Foundation for their support of this initiative and to our local Trail partners from Quebec for making the launch a success.
Trans Canada Trail local partners: CORCAN, Goodfellow, Parks Canada, the Town of St. Lambert, Tourisme Montérégie, Réseau Vert Montérégie, le Conseil québécois du sentier Transcanadien, la Corporation de gestion de la voie maritime du Saint-Laurent and Société du parc Jean-Drapeau.