4 April, 2015
Talking Trail at the 2015 SARM convention in Saskatoon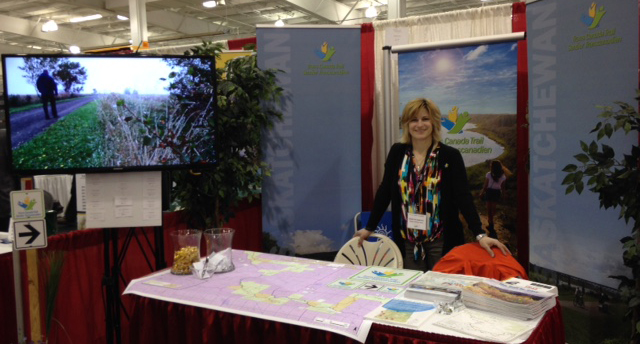 What does it take to build Trail?
It's an ambitious undertaking that demands the work of many hands; quite often those generously offered by municipalities.
Just recently, TCT representatives got the opportunity to discuss Trail building with Saskatchewan's rural municipal leaders at the Saskatchewan Association of Rural Municipalities (SARM) Tradeshow, which took place from March 9-12, in Saskatoon.
The goal? Encouraging community leaders to make 2017 Trail connection a top priority.
This is no small feat.
Currently the Trail in Saskatchewan is over 500 kilometres long, and a further 1,000 kilometres need to be added in order to fully connect the Trail by Canada's 150th birthday. These sections will traverse vast expanses of agricultural land, connecting widely dispersed rural communities.
Despite the challenges, support for Saskatchewan's portion of the TCT is growing, thanks in part to the increasing awareness of the Trail as important infrastructure for encouraging the development of healthy, active communities.
TCT representatives at SARM's trade show talked with municipal officials about how they can help reach our bold 2017 connection goal through installing signage, providing support for maintenance, and spreading the word on the benefits of the Trail.
Mayors were also encouraged to sign up as Trail Champions, as part of the TCT's national Champions program, which currently touts more than 35 mayors from 10 provinces and territories.
"The response was extremely positive," says TCT's Saskatchewan Trail coordinator Kristen Gabora. "We noticed an improved awareness of the TCT, which is a testament to the work we are doing to get Saskatchewan excited about the Trail.
With the help of Saskatchewan municipalities, we are on track to connecting Saskatchewan by 2017 and creating a natural stage where Canadians will be able to celebrate our diverse culture, history and landscape from coast to coast to coast".