5 November, 2014
Dana Meise wins Arthur Award, chats with Stuart McLean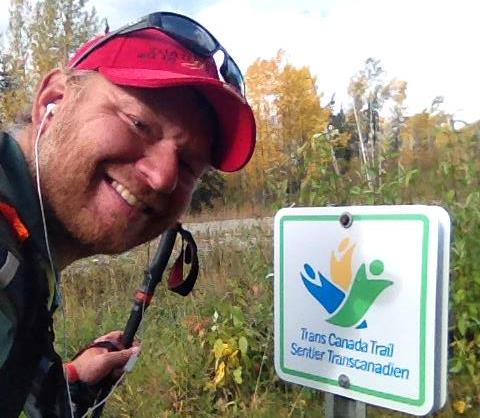 Dana Meise on his trek along the northern leg of the TCT, October 2, 2014.
From a phone booth on the side of the Alaska Highway in Coal River, northern British Columbia, long-distance hiker and Trans Canada Trail ambassador Dana Meise took a break from his journey across the northern leg of the TCT to chat with someone who wanted to hear all about his adventure.
It was, in fact, a phone call from one TCT Champion to another.
Writer, broadcaster and TCT Champion Stuart McLean of CBC radio's Vinyl Cafe had personally nominated Dana Meise for one of three 2014 Vinyl Cafe Arthur Awards, designed to honour accomplishments that go unnoticed and unheralded.
Meise's Arthur Award falls under the "I wish I had thought of that" category, decided upon when McLean read about Meise's latest journey on the TCT from its Trail Talk e-newsletter.
"I think it's a fantastic project," McLean said earnestly of the TCT during the 15-minute interview. "I'd love to shake your hand," he said to Meise.
"It's been the most rewarding thing I've ever done by far," said Meise of his now 19,000-kilometre journey, citing his first view of the St. Lawrence River and his arrival at Parliament Hill as two of his favourite moments.
On why he chose to hike the TCT, Meise said, "it's designed to connect… communities, history, beauty, geography, and I love that idea."