30 November, 2010
TCT and Parks Canada Host Trail Roundtable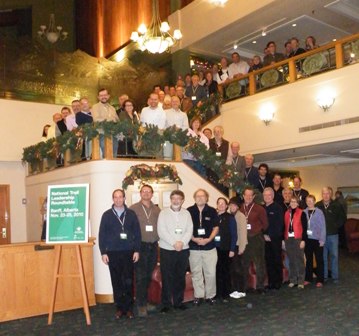 From November 23-25, Trans Canada Trail and Parks Canada brought together 49 trail community stakeholders for the National Trail Leadership Roundtable.
This event, held in Banff, Alberta, provided a forum to discuss the future of trail development, management and sustainability in Canada. The participants from across Canada identified common areas of agreement and challenges, and the need for increased collaboration, including a forum for future discussion.
A working group was formed to move the discussions forward and engage the national trail community. A report will be developed outlining the discussions, including a more detailed account of the issues and next steps.  The final version will be circulated to Roundtable participants and the trail community.
Edit: The report is now available for viewing.
We would like to take this opportunity to thank all those who participated in the Roundtable for their dedication to the process. We would also like to recognize the work of the facilitators from MASS LBP, as well as our generous sponsors – Loblaws and Alberta Sport, Recreation and Wildlife Foundation – for providing funding for the Roundtable.
Read the papers prepared for the Roundtable by MASS LBP:
Collaborative planning for trails: Assessing the development of trail strategies in Canada and abroad
Canada's Trail Community: Perspectives on collaboration