12 June, 2018
Trans Canada Trail celebrates supporters of The Great Trail in Alberta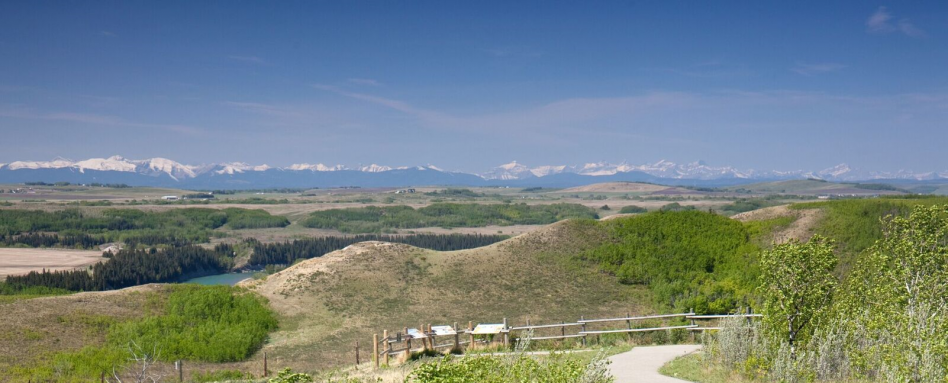 On June 2, Trans Canada Trail (TCT) thanked donors, Trail partners, volunteers and government supporters for their help in developing Alberta's section of The Great Trail.
The Great Trail in Alberta now stretches over 3,400 kilometres, showcases and links the province's majestic landscapes and diverse communities. Since 2003, TCT has invested over $7 million in Trail development and maintenance in Alberta.
The event began with words of welcome from Elder Jackson Wesley of the Bearspaw Nation, one of the Stoney Nakoda Nations. TCT President & CEO Deborah Apps and TCT Foundation Board Co-Chair Valerie Pringle were among the speakers at the event, which also featured a keynote address from TCT Champion Dave Rodney – the only Canadian to have climbed Mount Everest twice!
TCT is grateful to the many donors in both the public and private spheres, who have given generously to ensure the Trail in Alberta is enjoyed for generations to come. Some of these donors attended the event, including:
Inter Pipeline Ltd.
Gibson Energy
Pat Cartwright, whose husband Ian made an incredible donation in her honour on her birthday
Photos: Andrew Penner
The following lead donors also played a critical role in supporting Alberta's section of The Great Trail:
Jack Cockwell
David and Leslie Bissett
JDS Founders, Jozef Straus and Gary Duck
TransCanada Corp
AltaLink / Berkshire Hathaway Energy Company
ATB Financial
National Bank
Suncore Energy Foundation
TransAlta
Shaw Communications
TCT is also grateful for the support of the provincial government and the federal government.
The event also coincided with the launch of a new campaign to raise funds and create awareness of The Great Trail across Canada. The new campaign, Deeply Connected, will highlight and celebrate the deep connection that each and every one of us has to this Trail.
While Canada is now home to an impressive network that stretches over 24,000 kilometres on land and water, our work is not done. We must protect and nurture Canada's national Trail so that future generations can discover it, use it and treasure it.
Deeply Connected will support Trail improvement projects across the country, some of which are already on the horizon in Alberta, including:
The development of a new two-kilometre pathway that will improve links between the City of Calgary Trail and the northern city limits.
New Trail infrastructure in Bragg Creek that will improve the experience for people who hike and cycle along West Bragg Creek Trail.
The construction of a viewing platform and ramp on the Tiger Lily Pond in Glenbow Ranch Provincial Park, so that visitors can access the pond, take photos and enjoy the beautiful view it offers.
We look forward to continuing to work with Trail groups, volunteers, Indigenous communities and supporters in Alberta and across Canada, as we work to enhance the Trail for all users.