4 November, 2014
$460,000 for Trail development in Terrebonne, QC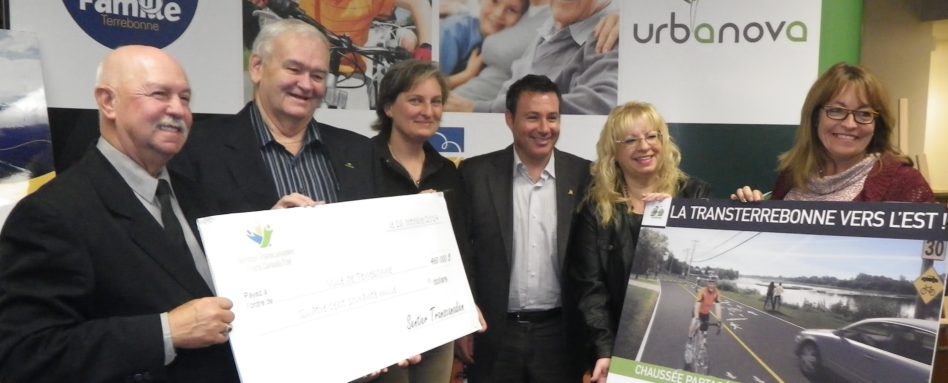 At a press conference on October 16, the City of Terrebonne announced that work on a nine-kilometre eastward extension to this network will take place over the coming months, thanks in part to a TCT contribution of nearly half a million dollars.
The new route will provide Trail-users with improved amenities, including new rest areas. One-way bike lanes along the route will allow cyclists to travel with the flow of traffic, eastbound or westbound. This addition will connect the gap in the TCT between Gatineau and Montreal, as well as connecting the P'tit Train du Nord Park to the municipalities of Charlemagne, Repentigny and Montreal-East.
"This is great news not only for the residents of Terrebonne, but also for Trail-users across the country," said Normand Besner, Chair of TCT's provincial partner, the Conseil québécois du sentier Transcanadien, "for Canadians who want to enjoy a multipurpose Trail connected to the City of Montreal network."
"We're delighted to be able to provide funding for this section that will be a wonderful addition to our national Trail," said Deborah Apps, president & CEO of the Trans Canada Trail. "We're very thankful to the City of Terrebonne, the Commission of Sports, Recreation and Outdoor Activity of Terrebonne, as well as our partner, the Conseil québécois du sentier Transcanadien, for all they've accomplished thus far."
TCT provincial partners like the Conseil québécois du sentier Transcanadien work with local communities to plan, develop and build sections of the TCT, like the Trans Terrebonne network. To find out how you can support Trail-building in your community, check out our website for a list of TCT's provincial and territorial partners who can help direct you to your local Trail group.