19 October, 2016
Trans Canada Trail Pays Tribute to Jim Prentice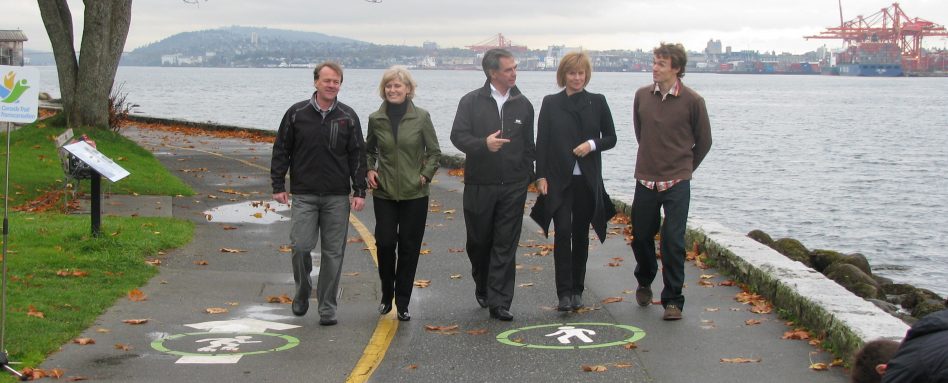 From left: Alan Latourelle, Deborah Apps, Jim Prentice, Valerie Pringle & Simon Whitfield.
Message from Deborah Apps, President & CEO, Trans Canada Trail
Jim Prentice was a true Champion of Trans Canada Trail, he encouraged and promoted our work over many years, and loved the national and grand vision of our shared project. It was its national scope and the connection of Canada and Canadians that he said drew him to our mission. Trans Canada Trail and its many partners and donors lost a valued friend, and we will miss him. At this difficult and sad time our thoughts and prayers are with his wife Karen, their daughters, and grandchildren, who have lost a husband, father and grandfather, and friend.
We thought it fitting to share with you a tribute written by former CEO of Parks Canada Alan Latourelle. Jim once told us that during his most challenging days as Minister of the Environment he would make the trip to the Parks Canada offices to meet with Alan and staff to be uplifted by the progress they were making. As you will read below, Jim left many legacies for Canadians to be proud of, and for future generations to nurture, value and enjoy.

Deborah Apps
President & CEO |Présidente et chef de la direction
Trans Canada Trail | Sentier Transcanadien
Message from Alan Latourelle, Former CEO, Parks Canada
Friday October 14 was a difficult day for many Canadians as we heard about the tragic death of a great Canadian and friend, the Honourable Jim Prentice. I had the opportunity and the honour to serve Jim when he was Minister responsible for Parks Canada for close to 2 years. From our first encounter in October 2008 when he was appointed as our Minister, I was impressed by this great leader; he was smart, insightful, business like, humble, cared deeply about his country's national natural and historic treasures and its indigenous people but most of all he treated people with respect and embodied the characteristics of a true leader.
Although he was our Minister for only 2 years, through his personal leadership, drive and passion he lead Parks Canada to a level of accomplishment rarely seen in its 100-year history. He did what great leaders do; he had a vision, inspired our team, gave us the space to be innovative and rolled up his sleeves to be part of the team when required. As a result, Nahanni National Park Reserve was expanded by 25,000 square kilometres which was described by some as the greatest Canadian conservation achievement in a generation, agreements were reached with provincial Governments to create a 10,700 National Park in the Mealy Mountains and to establish Sable Island as a National Park, Gwaii Haanas National Marine Conservation Area Reserve was established making it the first place in the world where an area was protected from the sea bed to the mountain top, feasibility studies were launched to establish a 40,000 square kilometre National Marine Conservation Area in Lancaster Sound and to further protect the Nahanni Watershed through Naats'ihch'oh National Park Reserve proposals.
For his home province, he secured $250 million of funding to expand the twinning of the TCH from Lake Louise to the BC border, lead a partnership that would see CP Rail invest $1m in science to reduce grizzly bear mortality on train tracks in the Mountain Parks, saw the birthplace of the National Park System being rehabilitated through a $13M investment in the Cave and Basin NHS and gave Canadians the Banff Legacy Trail.
His passion for Canada's wild spaces was matched by his passion for our country's nationally significant stories. Through his leadership, Saoyú and Æehdacho National Historic Site of Canada was established resulting in the permanent protection of the largest cultural landscape in our Country; an area the size of PEI, Terry Fox was designated as a person of national Significance and Jim ensured that Mile 0 of the Marathon of Hope was appropriately commemorated by commissioning a statue of Terry. He personally celebrated with the Parks Canada team on site the discovery of the HMS Investigator. Furthermore, the Heritage Lighthouse Protection Act came into force during his time as our Minister.
Protecting these places forever was not sufficient for Jim, he wanted young Canadians to connect with nature and our heritage places. As a result, he launched the free entry pass for all grade 8 students to all Parks Canada places, launched the Coolest Summer Job Program and also secured significant funding for the connection of the Trans Canada Trail.
Because of Jim Prentice's contribution to his fellow Canadians, in a century from now, his great great grand children and other Canadians will still be able to experience the richness of our diverse natural and cultural heritage.
I have been truly blessed to have had the opportunity to have Jim Prentice not only as a boss but later as a friend. He will be dearly missed
Alan Latourelle
Former CEO Parks Canada