1 April, 2016
TCT Works With First Nations Communities: Cowichan Valley Trail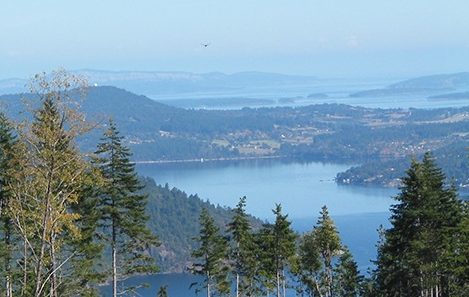 Cowichan Valley Trail
Located in the southern portion of Vancouver Island, the Cowichan Valley area features farms and wineries, second growth forests, small towns and aboriginal communities. An integral part of the Trans Canada Trail  (TCT), the Cowichan Valley Rail Trail is a spectacular non-motorized multi-use trail that runs from Shawnigan Lake to the Regional District of Nanaimo's portion of the TCT.
The former railway line used to serve pioneer and logging communities in the early 1900's. Now, this 120 km Trail section crosses four restored wooden trestle bridges, offering magnificent views of the rivers below. The most spectacular is the curved Kinsol Trestle, one of the highest of its kind in the world!
A major gap in the Cowichan Valley Trail has been the connection to the Galloping Goose Trail in the Capital Regional District. The CVRD/CRD Connector Trail over the Malahat is still a work in progress and we expect it to be open by 2017. It's being developed through a joint effort by the Cowichan Valley Regional District (CVRD), Recreation sites and Trails BC (RSTBC), Malahat First Nations, and the Capital Regional District (CRD).
The trail route is located on portions of CVRD Park Land, Crown Land, and Malahat Nation Land (recently acquired through treaty negotiations). To ensure the success of the Trail project, the CVRD and Malahat Nation have developed a collaborative partnership to plan and construct the trail connection.
Working groups now meet every month to determine together all aspects of the Trail routing, construction, interpretive signage etc… A Letter of Understanding was also created so to have a formal agreement and establish guiding principles between both parties.
The Malahat Nation is looking at taking on responsibilities such as long term maintenance of the Trail which would provide employment opportunities to its members.
This collaboration will certainly help contribute to a successful project, but also, trails have the potential to be so much more than just a recreational opportunity.
When you find ways to add cultural, spiritual and historical elements to them, it can turn a bike ride into an unforgettable experience!