21 March, 2014
TCT's 2017 connection strategy seeks help from Saskatchewan municipalities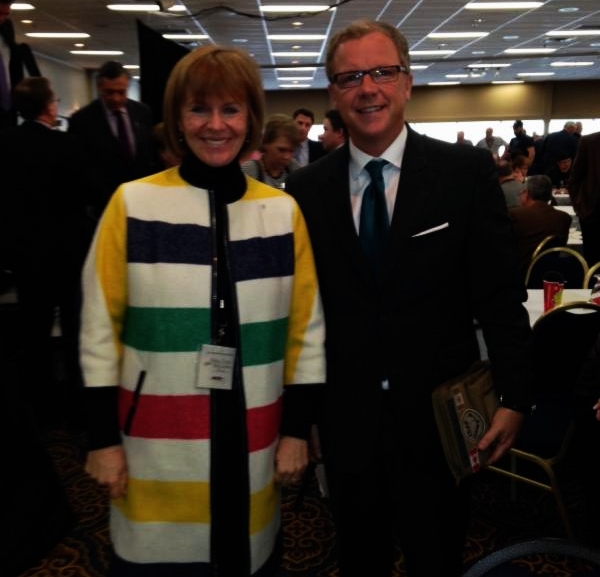 Connecting the Trail across Saskatchewan's magnificent landscape is an important priority for the Trans Canada Trail, but it is also a challenge. With the province's vast agricultural lands and dispersed rural communities, recreational trails have not, traditionally, been high priority beyond cities and parks.
But this is changing thanks to the growing recognition of TCT's role in reinforcing national unity and pride, and as important infrastructure for encouraging healthy, active communities.
TCT presented its Trail connection plans at the annual convention of the Saskatchewan Association of Rural Municipalities (SARM), last week in Regina. TCT Foundation co-chair Valerie Pringle urged the more than 1,000 provincial and municipal leaders and representatives to help complete Saskatchewan's portion of the Trans Canada Trail.
"No one knows better than the people of Saskatchewan how important the land is to building our country and shaping our identity," said Pringle. "We ask you to call upon that pioneering community spirit and help us connect the Trail across Saskatchewan and complete a continuous national trail that links Canadians from coast to coast to coast for Canada's 150th anniversary in 2017."
Currently the Trail in Saskatchewan is 500 kilometres long, with beautiful sections that run through Saskatoon and Regina, numerous provincial parks and First Nations lands. But these 500 kilometres constitute just 34 per cent of the proposed route and a further 1,000 kilometres need to be added by 2017 in order to fully connect the Trail.
TCT representatives at SARM's convention and three-day trade show talked with municipal officials about the help needed from rural municipalities, including approvals for permits, and Trail signage, maintenance and promotion. Municipal leaders were also encouraged to sign up as Trail Champions.
"The response was extremely positive", says TCT's Saskatchewan Trail coordinator Kristen Gabora. "We had information packages for all the rural municipalities on the Trail route and had productive discussions about the work ahead. Everyone understands Saskatchewan has a lot to do in the next three years but there is excitement about the Trail and a renewed sense of collaboration and enthusiasm to get the job done."
TCT has launched a nationwide Champions campaign in support of its 2017 connection goal. For more information, please contact Gay Decker at gdecker@tctrail.ca.