15 December, 2016
TCT's Chapter 150 Campaign Event in Toronto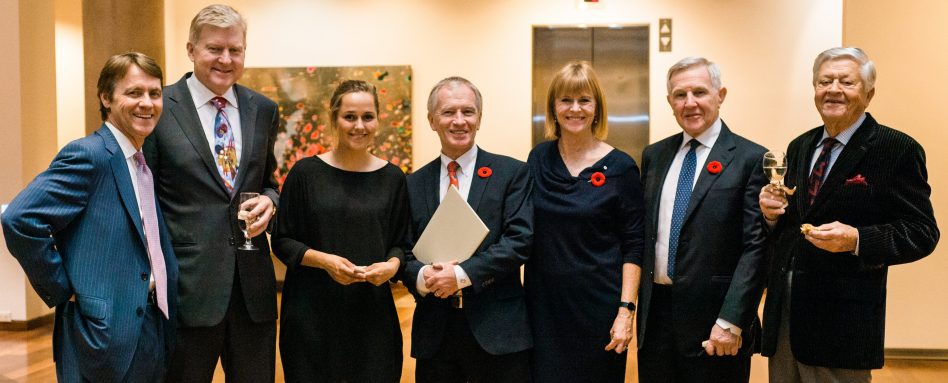 Left to Right:  Bruce Simpson, Ian Pearce, Sarah Jackson, Phillip Crawley, Valerie Pringle, Jack Cockwell, Jack Rhind
TCT was honoured to host an intimate evening for Toronto-area Chapter 150 donors in November, including Phillip Crawley, publisher and CEO of The Globe and Mail; Jon & Nancy Love; TD Bank Group, represented by Karen Clarke-Whistler, chief environment officer; FCA Canada, represented by Marketing Manager Jeff Garon; and Jack Cockwell.
Several TCT National Champions were also in attendance, including Bonnie Brooks, vice chairman of Hudson's Bay Company; Veronica Tennant, Prima Ballerina with The National Ballet of Canada, filmmaker, producer, director, speaker, narrator and writer; and Trail explorer Sarah Jackson who is currently walking across Canada on The Great Trail.
TCT Foundation Co-Chair Valerie Pringle acted as event emcee, thanking TCT donors and supporters, and sharing the year's achievements with guests. The evening also served as an opportunity to welcome new members of the Chapter 150 campaign: Sobey's, The McCain Foundation, Ron Joyce and The Joyce Foundation, and Jack Cockwell, who was recently appointed as Honorary Chair of the Campaign Cabinet.
Valerie also took a moment to announce Jack Cockwell's extraordinary donation: in partnership with Brookfield Partners Foundation, Mr. Cockwell has committed to making the single largest private sector gift to date in TCT's history. His $3-million gift is being made in honour of his late mother, Daphne Cockwell, an avid conservationist, and will support Trail development across Canada.
It was also an occasion to recognize five iconic Canadian businesses and philanthropic leaders who were among the first supporters of Trans Canada Trail's bold dream: Bell Canada, The Claudine and Stephen Bronfman Family Foundation, FCA Canada – formerly Chrysler, The J.W. McConnell Family Foundation and TD Bank Group.
Outdoor adventurer Sarah Jackson took time off from her coast-to-coast trek on The Great Trail to share her story with event guests. Last June, in Victoria BC, Sarah started her incredible journey, and in just a few months, she hopes to take her final steps in completing her walk across Canada when she arrives in St. John's, Newfoundland. At 24 years old, this young woman, who grew up in Edmonton, is a true Trailblazer, as she may be the first woman to have crossed The Great Trail from coast to coast. Sarah gave a powerful testimony as a reminder of what TCT is working toward with the invaluable support of our donors, who give so generously to this iconic project.
The evening came to a close on a very high note, with an exciting announcement from Bonnie Brooks, Vice-Chairman of HBC and a strong supporter of The Great Trail. HBC and TCT will be partnering to create a historic event to celebrate Canada's 150th anniversary of Confederation in a truly national way on The Great Trail, the details of which are to be revealed in early 2017.
It was a truly memorable evening and a great kickoff for the exciting year ahead. View the photo album HERE.