30 May, 2015
The Adventure on the TCT begins for Woods Canada Dream Job Explorers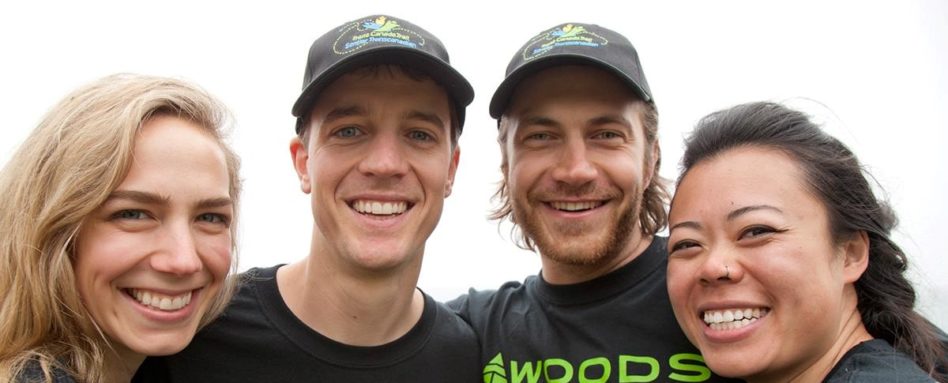 The search for Woods Canada's Dream Job Explorers ended on May 12, 2015. After interviewing all the candidates, the team at Woods couldn't imagine the Dream Job trek with just two adventurers – so they decided to hire four, and announced that two couples – Cedric Schell & Magee Walker from Whistler, British Columbia, and Adam Kochanek & Melbo Seto from Calgary, Alberta – had been hired as the Explorers. Selected from more than 3,800 online submissions from candidates across the country, Cedric & Magee and Adam & Melbo will embark on a once-in-a-lifetime, five-month, 14-stop journey across the Trans Canada Trail—from British Columbia through to Prince Edward Island.
Additional information about the Dream Job ambassadors:
Avid climbers, who met at their local gym, Adam Kochanek & Melbo Seto (above, right) from Calgary, Alberta look forward to exploring all that Canada has to offer over the next five months. Both are 30 years old; Adam is a firefighter with extensive hiking, climbing and kayaking experience, and Melbo is a dental hygienist who is trained in ski patrol, EMT, survival instruction and scuba diving.
Outdoor enthusiasts Cedric Schell & Magee Walker, both 28, reside in the mountains of Whistler, British Columbia. A paramedic and firefighter, Cedric has undergone extensive emergency and medical training. A bilingual freelance writer, Magee enjoys snowboarding, running and hiking in her spare time. The pair met on a blind date to go snowboarding and look forward to visiting the High Rockies as they cross the country this summer.
The four explorers have officially kicked off their adventures , one couple starting in British Columbia and the other in PEI, meeting in the middle to end their journey in September. For pictures, videos, antics or to vicariously live through their experiences, follow the hashtag #WoodsExplorer. Don't forget to follow Trans Canada Trail and Woods Canada on Facebook, Twitter and Instagram for more exclusive content.
Trail sections to be explored:
British Columbia
– Cowichan Valley Regional Trail
– Sea to Sky Marine Trail
Alberta
– Goat Creek Trail
Northwest Territories
– MacKenzie River Trail
Manitoba
– North Whiteshell Trail
Ontario
– Atikokan/Quetico Provincial Park Trail
– Pukaskwa/Lake Superior Water Trail
– Huntsville Trans Canada Trail
Québec
– Parc de la Gatineau
– Baie-Saint-Paul
New Brunswick
– Fundy National Park
Nova Scotia
– Celtic Shores Coastal Trail
PEI
– Confederation Trail / Summerside
– Confederation Trail / St. Peter's Bay