16 May, 2017
The Photographer Who is Catalyzing Conversations about Canada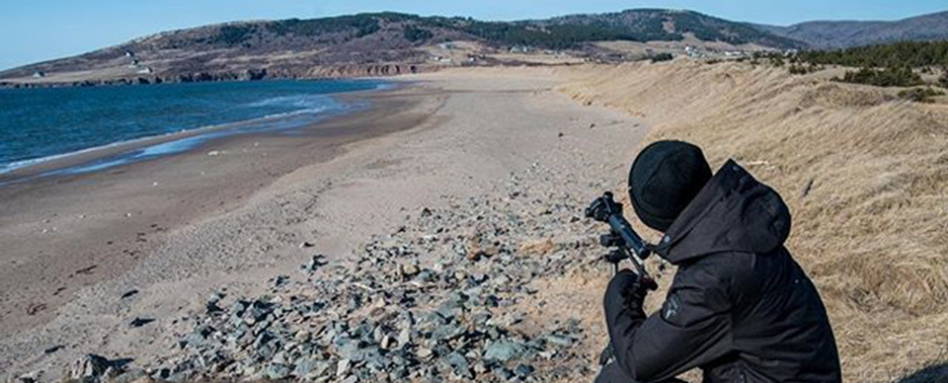 Is it possible to summarize the landscape of Canada in 13 photos? This is the question that Randy VanDerStarren is exploring as he travels across The Great Trail, attempting to capture one iconic image from each province and territory. He knows it's a bold undertaking.
"It's audacious to think you can capture the essence of a place with just one photo," VanDerStarren admits.
Fortunately, the former president-of-a-wealth-management-company has a resume of experiences that include not only managing big ventures but also the art of photography. Since launching his international photography project Take Your Seat, he's travelled to various corners of the world taking photographs while promoting dialogue and the significance of intentional living. Each photograph from his project features an iconic orange director's chair. The symbolism is simple — viewers are encouraged to "direct" their own lives, their own narratives.
Audacious? You bet.
Even Canada's smallest province, Prince Edward Island, has a diversity of topographical landscapes: rolling fields, windswept beaches, quiet rocky coves. Selecting a single photo to represent a pint-sized Atlantic province will be a hefty task, and will become even more challenging with larger provinces such as Quebec or British Columbia.
"I'm not going to take the quintessential photo," VanDerStarren states. "But I am hoping to capture an emotional connection."
In the company of his two sons, Austin and Evan, he has already travelled to several provinces in eastern Canada, accessing various segments of The Great Trail recommended by local trail experts. Currently, he's out west with his daughter Bo and other son, Spencer. One could call the project a family affair.
To date, he has taken over 1500 images of the trail. His task will be to whittle such a collection down to 13 final photographs. The chosen photographs will be on display June 10 & 11 in the lobby of Roy Thompson Hall, followed by a stint at Toronto City Hall. Then, the exposition will move around the country, and hopefully inspire Canadians to take advantage of The Great Trail.
"The natural beauty [of the trail] forces you to slow down," VanDerStarren reports, "On some levels it's sad because you want to stay longer. The depth and variety — it's overwhelming to see it all together."
Let's Talk About Canada
With the nation's 150th anniversary, VanDerStarren argues that it's never been a better time for Canadians to talk about Canada. While we're noted for our subtler forms of patriotism than our southern neighbours, he believes it's perfectly acceptable to celebrate the distinctiveness of Canada: the incredible geographical landscape and the important role we play in the international political arena. The point of this project, he insists, is not to brag about how awesome we are. Rather, it's about starting a couple of key conversations.
The first conversation is about the setting in which we exist.
"Philosophically, Take Your Seat, is about recognizing our amazing planet and — in this instance — our amazing country. We need to appreciate the beauty. We can't take it for granted."
The second conversation is about building an intentional life.
"This project is about following passion and truth — thoughtfully with oneself or with others. No matter what hand you've been dealt, it's a reminder to get out there and do something with your one life."