17 May, 2010
The Trans Canada Trail and Alexandre Bilodeau – forever linked in Rosemère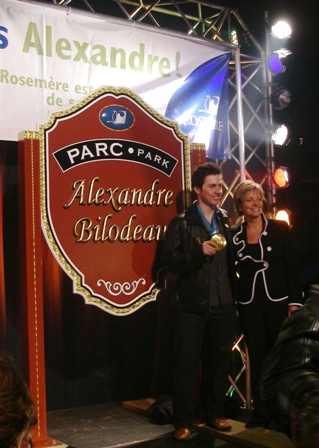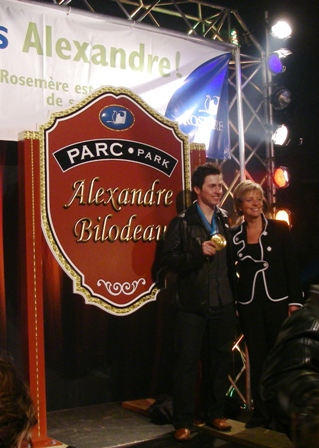 Rosemère, Québec native Alexandre Bilodeau became a hero with his incredible performance at the Vancouver Olympic Games, and was recently celebrated by his home town of Rosemère at an event in his honour held on April 7th.
As part of the festivities, the Trans Canada Trail Park that was officially opened on June 8th of last year, was renamed the Alexandre Bilodeau Park. The Trans Canada Trail enthusiastically agreed to the name change and representatives were on hand to applaud the young man who, just one year ago, had participated in the opening of the Trans Canada Trail Pavilion in Rosemère. What a difference a year makes!
Rosemère Mayor, Madame Hélène Daneault, made the unveiling announcement:
« Alexandre, on February 14th, you thrilled Rosemère and all of Canada by winning the first Olympic gold on home soil. Beyond this enormous achievement, you have devoted a great deal of time to your community. It therefore makes sense for all of us to show our admiration and gratitude in a special way.
Among the projects in which you took part, you will remember cycling with the pupils of l'Académie Sainte-Thérèse, your childhood school, to the inauguration of the Trans Canada Trail Pavilion. I know that those young people remember it well!
As I said a little earlier, we want to draw attention to both your gold medal and your commitment to  community involvement. For these reasons, the Town of Rosemère recently agreed to immortalize this historic moment by renaming Rosemère's Trans Canada Trail Park the Alexandre Bilodeau Park.
This park represents our link to the Trail, which spans all of Canada and reaches, among other places, Vancouver, the site of your greatest success to date. »
Congratulations Alexandre on your magnificent achievement. The Trans Canada Trail is pleased and proud to have participated in this tribute.