18 October, 2013
The Trans Canada Trail officially traverses Fundy National Park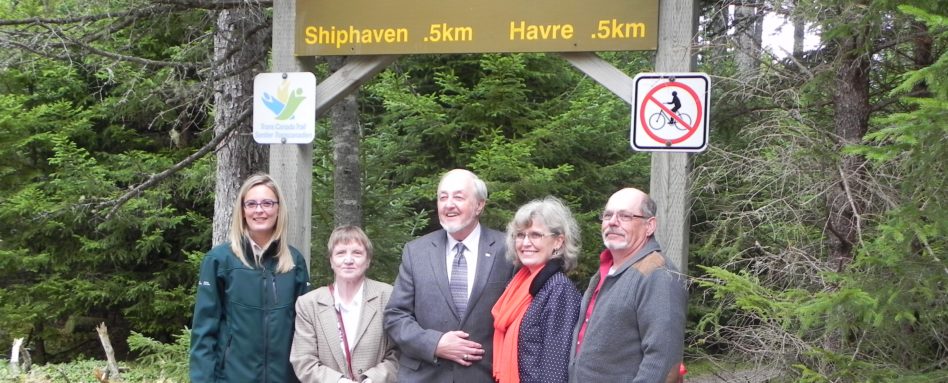 From left to right, at the official opening of Fundy Trail: Geri Syroteuk, acting superintendent of Fundy National Park; Kirstin Shortt, mayor of Alma; Wayne Steeves, MLA for Albert; Deborah Apps, president & CEO of Trans Canada Trail; and Poul Jorgensen executive director of Sentier NB Trails. (Photo: Isabelle Spencer, Parks Canada.)
Trans Canada Trail, Parks Canada and Sentier NB Trail proudly announced the official opening of the 33-kilometre Fundy Trail, which passes through Fundy National Park, a site of internationally recognized ecological importance, on Monday, Oct. 7.
"The Trail conveniently connects the Fundy Footpath to the Dobson Trail in New Brunswick, which is also part of the UNESCO Fundy Biosphere Reserve, one of our country's most prized landscapes," said Deborah Apps, president & CEO of the Trans Canada Trail. "It has been a pleasure collaborating with Parks Canada and Sentier NB Trail as we work to connect the entire Trail from coast to coast to coast by 2017, Canada's 150th anniversary of Confederation."
This new TCT segment is clearly marked and features several interpretive panels. The addition of this world-renowned biosphere to the Trans Canada Trail network reflects TCT's commitment to preserving green space and promoting conversation across the country.
Fundy National Park is the second Parks Canada location the Trans Canada Trail traverses; the other is Banff National Park in Alberta.
"Parks Canada is committed to connecting Canadians and international visitors to Canada's spectacular natural and cultural heritage," said Minister Leona Aglukkaq. "The completion of this portion of the Trans Canada Trail in Fundy National Park is yet another opportunity for Canadians to explore and discover the rich culture and beauty of Canada. Trails are fascinating venues that facilitate learning, promote healthy lifestyles and encourage environmental stewardship."
The Trans Canada Trail is proud to be a funding partner in the Fundy National Park Trail project. Since 1992, more than 550 kilometres of Trans Canada Trail have been developed in New Brunswick and TCT has invested nearly $1.4 million in New Brunswick. The Trail is 58.4 per cent connected within the province.