14 December, 2016
The White Family Remembers Their Role Models: Dr. Bruce and Kathryn White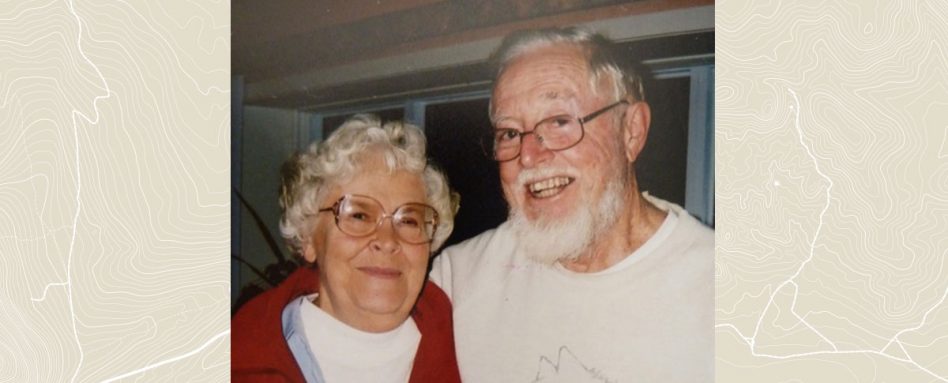 He was a tireless advocate for physical fitness — and someone who loved to get outside.
When Dr. Bruce White died at the age of 92 in July 2016, his family lost a devoted husband and father, and Canada lost a great man. He was a war veteran, a role model and an enthusiastic promoter of healthy lifestyles.
"Dad was a life-long exerciser, especially outdoor exercise," says his son, Kirk, who still lives near the family home in Windsor, Ontario. "He used to ride his bicycle, run marathons and he walked a couple of miles every day until shortly before he passed away. He wanted everyone to put their phone down and get outside."
That's why the White family wasn't the least bit surprised when Bruce left instructions to make a posthumous gift to Trans Canada Trail. The donation is in the name of Bruce and his late wife, Kathryn.
Focus on Fitness
Their daughter, Carol White, sees the donation as a fitting tribute to her parent's commitment to healthy lifestyle choices. Carol recalls invigorating family camping trips up to Algonquin Park and northern Quebec.
"We canoed and portaged, then slept under a plastic sheet strung up between tree branches. We even caught fish for dinner," says Carol, an avid golfer, skier, curler and volleyball player.
All of the White's six grown children are physically active, enjoying everything from tennis and badminton to the occasional triathlon. Carol and Kirk credit their parents for putting a priority on fitness and health.
"Back when smoking was popular, Dad used to go to high schools and show kids what would happen to their lungs," says Carol. "He really cared."
Medical Doctor Turned Tree Farmer
After retiring from his career in family medicine and anesthesiology, Bruce bought a tree farm in Essex County. He and Kathryn planted 10,000 saplings, then spent two years as missionaries in Kenya and Bella Bella, British Columbia. They returned to Ontario to build a home and garden on the farm, among their growing oak, walnut, maple and pine trees.
Meanwhile, the family was growing, too. The Whites had 13 grandkids and 20 great-grandchildren.
Kathryn Sleziak, the youngest of the grandchildren, remembers Bruce riding his bicycle to her house. He'd swim in their pool and deliver fresh flowers and vegetables from the garden. She grew up with a steady supply of cantaloupes, apples and strawberries on the kitchen counter.
"The Trail is the perfect way to carry on my grandparents' philosophy of staying active and healthy," says Kathryn, a 29 year-old science teacher who now lives in Ottawa — where Bruce and Kathryn's names will be recognized in The Great Trail's celebratory pavilion.
"I'm excited to see it," says Kathryn, who was named after her grandmother.
"The Woman behind the Man"
With six children to raise, Kathryn White was a stay-at-home mother, as well as an active church member. She started dating Bruce after the war, while working at his start-up company — an ice cream parlour in the Niagara region. He ran the parlour during the summer to help pay medical school expenses. The federal government covered tuition because of his war service.
"She was the woman behind the man," adds Carol. "She supported him every step of the way. She was a part of everything he did."
Carol and Kirk note that their parents shied away from recognition — especially for any acts of kindness or generosity. However, the family approves of the plaque in the pavilion in Ottawa.
"It's a tasteful way to acknowledge how they promoted health," says Carol. "We think they'd approve."