7 June, 2013
Toronto TCT a place for recreation and repair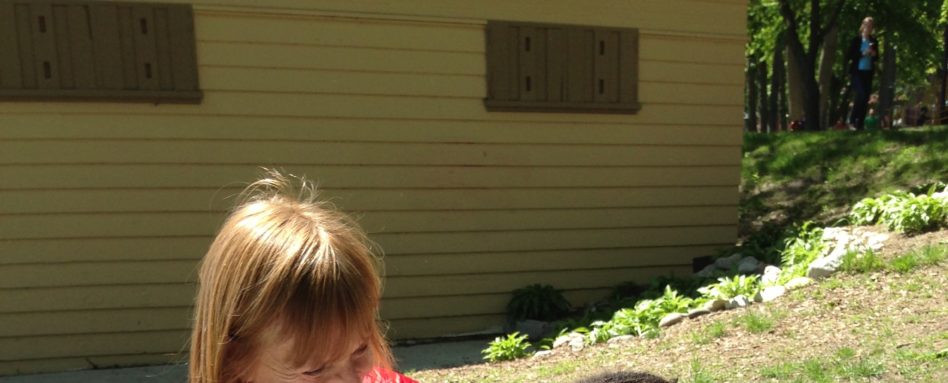 TCT Foundation Co-chair Valerie Pringle works on a BioKit with a friend from the Red Door Shelter during an outing to the Martin Goodman/Waterfront Trail organized by the Junior League of Toronto
Having a free, accessible place to reconnect with nature is something we take for granted if we have the resources to get away from the city when we want.
But for those of us in situations where time or money is tight, an urban Trail like the segment of the TCT that runs along the beautiful Martin Goodman/Waterfront Trail in downtown Toronto is a godsend.
Recognizing the benefits of getting outside on the Trail, the Junior League of Toronto recently organized an outing for kids from the Red Door Family Shelter, which gives homeless families a place to stay while they seek new arrangements.
TCT Foundation co-chair Valerie Pringle, who was speaking at the Junior League of Toronto Awards Dinner that week, also participated in the Trail outing, which saw Red Door families discovering the Trans Canada Trail with the aid of the TCT's BioKit of interpretive activities.
"I was thrilled to be able to spend the afternoon with these children on the Trail in Toronto," Pringle said. "Seeing the kids learn about their environment and get excited about nature right in their own backyard is a perfect example of how important our Trail is to Canadian communities."
The group took the streetcar from the shelter to The Beaches, in Toronto's east end.
"The children were hungry for outdoor activity and exploration. It was perfect," Pringle said. "I loved telling them that this is their Trail and they have to use it and help take care of it and that, if they want, they would soon be able see all of Canada on the Trail. I am really grateful to­­ the Junior League of Toronto for organizing this event and working with their volunteers to promote the Trans Canada Trail."
The TCT Waterfront Trail is currently 100 kilometres long and runs from Pickering to Hamilton. Once this section of the Trail is fully connected, it will be 130 kilometres and will link six communities and approximately 4.3 million Canadians at human speed.
Since 1992, 2,729 kilometres of the Trans Canada Trail have been connected in Ontario; there are still 2,506 kilometres to go in the province to reach full connection.