1 November, 2018
Trans Canada Trail receives Gold Medal from Royal Canadian Geographical Society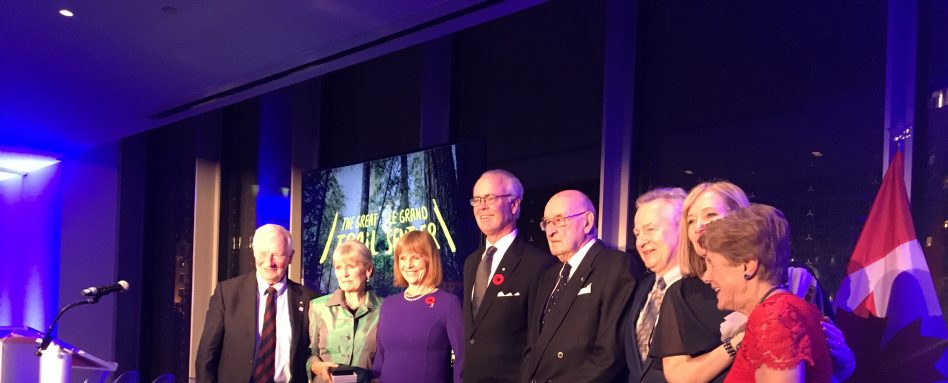 Trans Canada Trail (TCT) has been awarded the prestigious Royal Canadian Geographical Society (RCGS) Gold Medal for connecting The Great Trail, the world's longest network of recreational trails.
TCT received the medal at the Society's College of Fellows Annual Dinner in recognition of The Great Trail's connection and its potential to promote the geography and heritage of Canada. Notable recipients of the accolade in previous years include Margaret Atwood, Gordon Lightfoot, Sir David Attenborough and former prime minister John Turner, as well as organizations like Parks Canada and the Canadian Space Agency.
Stretching from St. John's, Newfoundland to Victoria, British Columbia, The Great Trail offers the natural beauty, rich history and enduring spirit of our lands and its peoples. It began as an ambitious dream in 1992, when a group of visionary and patriotic individuals came together to create a cross-Canada trail from coast to coast to coast.
After 25 years of unrelenting effort across some of the world's most challenging geographical regions, The Trail was connected across Canada in 2017. TCT continues to fundraise for ongoing Trail projects across the country.
"The Great Trail's story is a story of collaboration, and we are so grateful to all our partners, volunteers and donors across the country who made this dream a reality," said Valerie Pringle, Chair of the TCT Foundation and Fellow of the RCGS. "Without their incredible generosity and steadfast work, there would be no Great Trail."
"Of all the things I have done in my life, with the exception of my family, nothing makes me prouder than helping to create The Great Trail," Ms. Pringle added. "Knowing that the Trail now exists makes me euphoric, and I encourage everyone to get out there and enjoy it!"
"The Great Trail has been called the contemporary equivalent of the national dream, connecting millions of Canadians and exposing them to their natural heritage and remarkable geography, to new people and communities," says John Geiger, CEO of the RCGS. "Our Gold Medal recognizes the founders and leaders, trailblazers and builders of this wildly ambitious project."
The presentation of the award also coincided with the conclusion of The Great Trail Treasure Hunt, which encouraged outdoor enthusiasts across Canada to get on their local Trail section and find amazing prizes. Hundreds of Canadians participated in this national competition, organized with the support of the RCGS.
Other recipients of the RCGS Gold Medal at the dinner included those involved in the creation of the Indigenous Peoples Atlas of Canada, published by the RCGS in 2018.
TCT is very grateful to be recognized with this high honour from the RCGS, and we look forward to continuing our work to enhance Canada's national Trail for generations to come.