13 June, 2013
Trans Canada Trail proud supporter of Meewasin Trails Day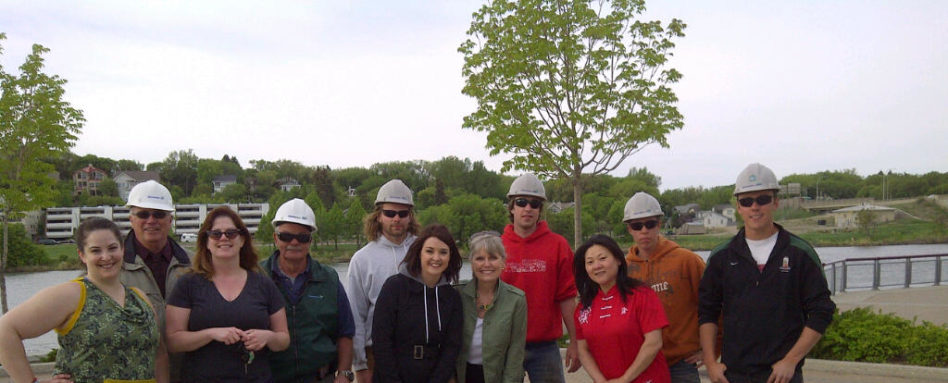 Meewasin Trail in Saskatoon celebrated Trails Day with not one, but two activity-filled days, proudly supported by the Trans Canada Trail.
On Friday, May 31 and Saturday, June 1, students, organizations, groups and individual Trail enthusiasts walked, ran and rolled the Meewasin Trail, which travels through Saskatoon for more than 13 kilometres along the South Saskatchewan River.
Former Saskatchewan Premier Roy Romanow also participated, and spoke fondly of the creation of the Meewasin Valley Authority with his cofounders former Saskatoon Mayor Cliff Wright and TCT Patron Peggy McKercher.
"One of my proud personal accomplishments was to have been part of the original operation here," he said. "It's such a natural mix of nature and community that anything is possible."
International Trails Day is held annually on the first Saturday of June. This year, in order to encourage young people to be more active and to use their local Trail, the Meewasin Valley Authority held extra events on the Friday, inviting teachers to involve their students.
For Saturday's festivities, which ran from sunrise to sunset, Meewasin Valley Authority, Trans Canada Trail and the Parkland Trails Association invited organizations and groups to hold events on the Meewasin Trail.
Trans Canada Trail President & CEO Deborah Apps also joined in the festivities, experiencing Zumba, a dance-fitness program, for the first time, and seeing children engage with Pelican Watch, a local contest to guess the date of the arrival of the first pelican in Saskatchewan.
"Trails Day events give communities a wonderful opportunity to discover, or rediscover, their local trails and all the different activities they foster," Apps said. "It's a great way to celebrate community building, physical activity and the great outdoors. Trans Canada Trail is particularly proud to have been a part of the remarkable festivities on Meewasin Trail this year."
About 500 kilometres of the Trans Canada Trail have been built in Saskatchewan, where the Trail is 34 per cent connected. This means there are still almost 1,500 kilometres of Trail to be built in the province by 2017.
Since 1992, TCT has contributed more than $750,000 to Meewasin Valley projects. Projected costs to connect the Trail in the province of Saskatchewan by 2017 are just over $19 million.
The TCT is on a bold mission to connect the Trail from coast to coast to coast by 2017. Help us connect the Trail at www.tctrail.ca.