18 May, 2023
Trans Canada Trail's Advocacy Days April 17 & 18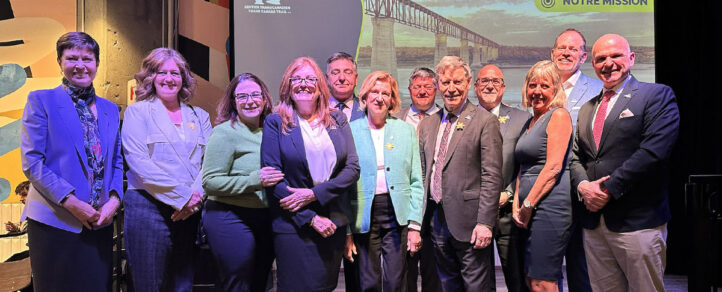 We Had Fruitful Discussions with the Government of Canada on the Importance of Trails and Trail Tourism
On April 17 and 18, 2023, Eleanor McMahon, our President & CEO, and Jason McLinton, our Chief Government Relations Officer, headed to Parliament Hill in Ottawa for two days of meetings with the Government of Canada, raising awareness about the valuable contribution of trails in connecting people and communities, promoting mental and physical health, and supporting local economies, and their potential to drive domestic and international tourism.
"We were so pleased with the number of Members of Parliament (MPs), Ministers and staff who took the time to meet with us," said Eleanor McMahon. "We had great discussions about Trans Canada Trail's vision, mandate and the amazing work we do alongside Trail groups across Canada to steward, enhance and grow Canada's national trail. Whether it was discussions about the Trail and Trail groups in their riding, our work on a National Trails Tourism Strategy, the contribution the Trail makes to increasing active transportation and protecting green spaces, or the positive impacts trails make to our economy and our mental and physical well-being, the degree of engagement was inspiring. We look forward to building on these discussions in the coming months and years, and to working with MPs from across the country in support of the Trans Canada Trail."
To conclude the event, we held a reception to further raise awareness about the Trail. We were so pleased to hear directly from MPs about their favourite sections of the Trans Canada Trail, and what benefits the Trail provides to people in their ridings, right across the country.
MPs and members of government from across the country were in attendance. The Honourable Randy Boissonnault, Minister of Tourism and Associate Minister of Finance, spoke about the importance of the Trail. Tony Baldinelli, Member of Parliament for Niagara Falls, and Gord Johns, Member of Parliament for Courtnay – Alberni, also spoke at the reception. Members of our senior leadership team, Cheryl Hanson, our Chief Development Officer, and Meghan Reddick, our Chief Communications & Marketing Officer, were also in attendance.
Our sincere thanks go out to all those who took the time to meet with us and who expressed their support. We look forward to continuing conversations about healthy living, active transportation and trails tourism from coast to coast to coast!