3 May, 2013
Tremendous volunteer effort gets TCT established in Cole Harbour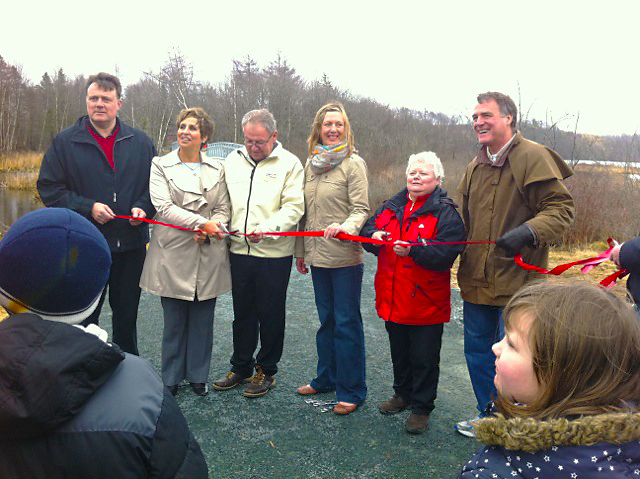 Just as the country was gearing up for National Volunteer Week, volunteers, officials and Trail users celebrated the opening ceremony of the latest Trans Canada Trail segment in Nova Scotia on Saturday, April 20.
The enthusiastic crowd gathered at the base of Bissett Brook Bridge, the new pedestrian bridge crossing Bissett Brook in Cole Harbour, N.S. The construction of this bridge and its adjacent Trail completes Phase 2 of the Bissett Trail construction, which will eventually span 15 kilometres from Lake Charles Trail in the northwest to the renowned Salt Marsh Trail in the southeast.
This two-kilometre segment will be open year-round and accommodate walkers, cyclists, cross-country skiers and snowshoers. Paddling enthusiasts can also canoe in Bissett Brook.
The urban Trail, which runs through wetlands, gives residents ready access to nature. The Trail is home to significant flora and fauna, including beavers, muskrats and the eastern painted turtle.
According to Jane Murphy, National Director of Trail, volunteers were pivotal in accomplishing this project.
"The volunteers are critical," she said. "We have tremendous support across the country and Nova Scotia is no exception. Trail development in this province is led by volunteers and they really deserve the kudos here."
Despite chilly weather, the Trail's official opening on Saturday, April 20, drew a crowd of about 100 people. Murphy was joined by Nova Scotia Premier Darrell Dexter, Halifax Regional Municipality Mayor Michael Savage, MP Robert Chisholm (Dartmouth-Cole Harbour) and HRM Councillor Lorelai Nicoll.
Trans Canada Trail contributed $25,000 to this ambitious $214,000 project. The Trail is 40 per cent connected in Nova Scotia and 73 per cent connected in Canada.
HRM, Cole Harbour Parks and Trails and TCT have partnered in Trail building since 1998. TCT has invested more than $1 million in Nova Scotia to date.
-db
Bissett Trail and Bissett Bridge construction photo gallery. Photos by Vanda Jackson (opening), Charley Sharkey and Michael McFadden (construction).