15 November, 2019
We won a Nature Inspiration Award!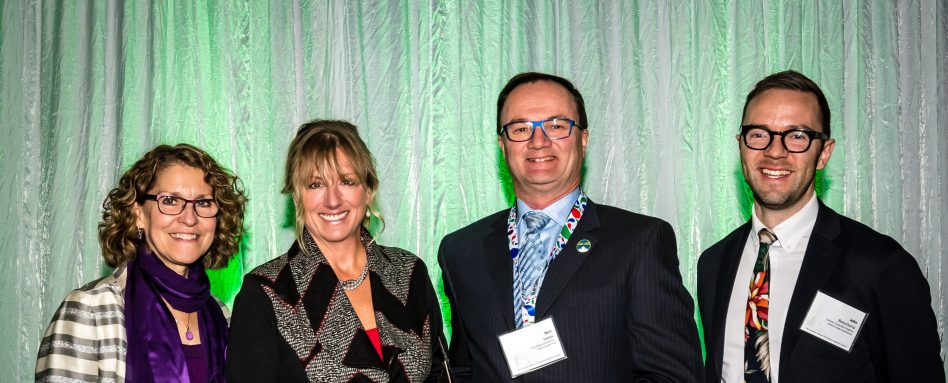 Trans Canada Trail has been named one of the winners of the Canadian Museum of Nature's Nature Inspiration Awards.
Neil Yeates, Chair of the TCT Board of Directors and Simone Hicken, Vice-President, Resource Development, accepted the prestigious accolade at a gala hosted by the museum, which is Canada's national museum of natural history and natural sciences.
The award, in the Not-For-Profit category (small to medium organization), recognized TCT's efforts to create The Great Trail of Canada – the world's longest network of recreational multi-use trails. TCT was also presented with $5,000, which can be designated to a program of its choice.
Stretching over 24,000 kilometres from coast to coast to coast, The Great Trail of Canada allows everyone to connect meaningfully with majestic natural landscapes, rich history and diverse communities. It also passes through some 15,000 communities, and 80% of Canadians live within 30 minutes of a Trail section. TCT continues to fundraise for ongoing Trail projects across the country.
Thank you @MuseumofNature so honored to have @TheGreatTrail recognized #natureaward for its work connecting Canada & Canadians! This award is shared with thousands of Canadians who over 27 years have made our collective national dream a reality! @JohnGGeiger @RCGS_SGRC https://t.co/HWd8AikpGs

— Deborah Apps (@deborahapps) November 14, 2019
TCT is also thrilled to have shared the stage with many other individuals, communities and businesses who work tirelessly towards the common goal of protecting nature.
Inspiring winners in other categories include:
Twelve-year-old Sophia Mathur from Sudbury, Ontario, for leadership and environmental advocacy about action for climate change
Dr. Laurence Packer from Toronto, for scientific research on wild bees and public outreach about the importance of bees and other pollinators
Volunteer John Coope, for two decades of conservation work and stewardship of Vancouver's Jericho Beach Park
Furniture-maker Calstone Inc. from Scarborough, Ontario, for leadership in helping youth and communities to re-green urban spaces
Abeego, from Victoria, British Columbia, for inventing and marketing the first beeswax food wrap, a sustainable alternative to plastic
Second Harvest from Toronto, for creating and managing a food-rescue and redistribution program, serving over 370 social service agencies and food hubs
"The projects led by these individuals and organisations show the value of creating and respecting connections with the natural world. They inspire us in many ways, and this is shown not only by concern for the environment and natural spaces, but also in stressing the value of sustainable practices," Meg Beckel, CEO and President of the Canadian Museum of Nature said in a media release.
"We congratulate the winners for their efforts, and are grateful to recognize the achievements of all those who submitted nominations this year."
Trans Canada Trail is both honoured and grateful to receive this award as it continues its work to engage, inspire and connect people across the country. We humbly accept it on behalf of thousands of Canadians – donors, volunteers, partners and governments at all levels – who have helped make this dream of a cross-Canada Trail a reality.
These achievements are only possible thanks to donors who have supported us for the past 27 years. Please consider supporting our national cause – donate today by clicking HERE.