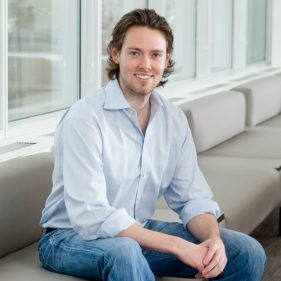 Aidan Richardson
Director, Trans Canada Trail Foundation Board
Alberta
Aidan Richardson is a professional engineer working in Calgary's Oil & Gas industry.  He is currently the Vice President of Engineering at Katal Energy; a company that is working to develop a novel petroleum refining technology.  In addition to managing a pilot facility, Aidan oversees a research team of academics at the University of Calgary, Cranfield University in England, the University of Manitoba and the Southern Alberta Institute of Technology.
Prior to his current position, Aidan spent five years with Birchcliff Energy, a midsize natural gas producer with assets in northwest Alberta.  Aidan achieved his P.Eng designation working as a Production Engineer for Birchcliff, and spent a significant amount of time working directly in the field.
Before moving to Calgary in 2010, Aidan attended Queen's University in Kingston, Ontario, and received his degree in Geological Engineering in 2009.  Aidan developed a passion for the outdoors during his summers at the family cottage in Ontario, where he also worked as a tennis instructor at the Royal Lake of the Woods Yacht Club.  Aidan continues to stay active in tennis and hockey, and enjoys making use of the extensive running trails near his home in Prince's Island Park.
Aidan joined the Trans Canada Trail Foundation Board in 2017.