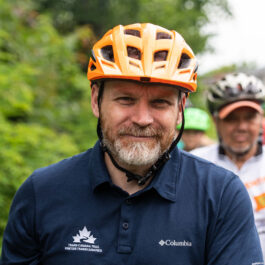 Mathieu Roy
Vice-President, Chief Trail Experience Officer
Trans Canada Trail
Mathieu brings more than 20 years of experience and a strategic, innovative mindset to his role as Vice-President, Chief Trail Experience Officer with Trans Canada Trail. He represents the organization in conversations about trail operation, development and management, and builds and manages strategic alliances and relationships with partners and all levels of government.
As part of the senior management team, he contributes to the development and execution of strategic planning and direction for Trans Canada Trail and liaises with the Trans Canada Trail Board and its committees. After joining the organization in 2017, he helped to execute Trans Canada Trail's $30-million funding relationship with Parks Canada. More recently, he has worked to deliver on the objectives of a $55-million agreement with the federal government, as well as those of private donors and supporters. He is grateful that he loves his work and the people he is privileged to work with every day.
Mathieu leads a team of passionate professionals focused on improving and enhancing the Trail experience for all users. Working closely with Trail partners and communities across Canada to address their unique needs, they support and facilitate the maintenance and expansion of a connected and high-quality trail network. They also develop and implement initiatives and programs focused on climate change adaptation, regenerative tourism, education, diversity and inclusion, safety and active transportation.
A professional engineer with the Order of Engineers of Quebec, Mathieu co-founded and led his own environmental consulting firm, and has a wide range of leadership experience in industry and the non-profit sector. He is a member of the board of the World Trails Network, a global organization working together to further the interests and sustainability of trails for the benefit of all.
Mathieu lives close to the La Montagnarde section of the Trans Canada Trail, which he explores on his bike in summer and on skis in winter. Here, the Trail winds through the Memphremagog region of Quebec, along lakes and through majestic forests.