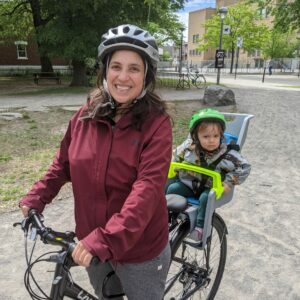 Amy Schwartz
Specialist, Content Creation
Nothing compares to experiencing the Trans Canada Trail in person. But first comes knowing the what, where, when, why and how of the thousands of kilometres of the Trail across Canada. That's where Amy Schwartz comes in, creating content that inspires prospective Trail users, answers their questions and equips them with the information they need to experience the Trail for themselves. As the Specialist, Content Creation for Trans Canada Trail, Amy creates engaging communications for fundraising campaigns, the Trans Canada Trail website and social media channels, and Trail Talk, the organization's electronic newsletter. She also supports her colleagues in other departments in their communications and content creation needs.
Fully bilingual (English and French), Amy holds a degree in Film Production from Concordia University, and a certificate in Editing from Simon Fraser University. She is a member of the Editors' Association of Canada. She lives in Montreal, close to the Ville de Montreal section of the Trans Canada Trail, one of her favourites. Her two other favourite sections of the Trail are in B.C.: the Spectacular Capilano River Regional Park, near the base of Grouse Mountain in North Vancouver; and the Slocan Valley Rail Trail, which winds through a stunning river valley in southeastern B.C.
Amy appreciates a great cup of coffee and a day spent outdoors with her partner and two children. She aspires to be a better gardener.