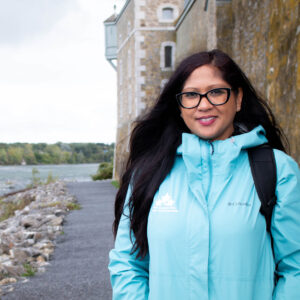 Jennifer Mahon
Director, Brand Marketing & Creative Services
Jennifer Mahon brings more than 20 years of marketing experience to her role as Director, Brand Marketing & Creative Services at Trans Canada Trail. She spearheads the strategic and tactical execution of marketing campaigns and overall content for print, broadcast and online platforms, including design, segmentation, tracking, results reporting, analysis, and recommendations for Trans Canada Trail decision-makers. She is adept at combining strong visuals with clear language to create impactful, targeted communications. Her love of photography has brought her to tell visual stories, not just for the Trail, but for organizations such as Condé Nast Traveler and Hilton Hotels & Resorts.
Jennifer is admittedly a travel addict and has been to 44 countries and 252 cities (and counting). Born and raised in Toronto, she now makes her home in Montreal. She is an avid walker and takes advantage of the Ville de Saint-Lambert section of the Trans Canada Trail near her home, which offers the best views of Montreal and Île Saint Hélène. The City of Victoria section of the Trail running along the waterfront in Victoria, B.C. is her favourite Trail section, for its stunning waterfront vistas.
Outside of her busy days at Trans Canada Trail, Jennifer combines her loves of travel, food, pets and photography in an active online blog and website.