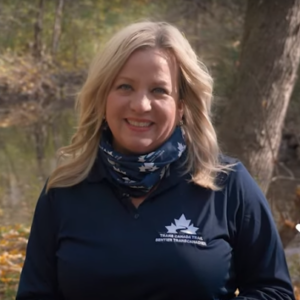 Meghan Reddick
Chief Communications & Marketing Officer
Meghan brings a wide-ranging career in non-profit management and brand strategy to her role as Vice-President, Chief Communications and Marketing Officer at Trans Canada Trail.
Leading with infectious enthusiasm, Meghan creates, manages and protects the brand for the world's longest trail. She oversees the team that manages Trans Canada Trail's marketing, communications, web and digital marketing, events, media relations, partnerships and promotions.
Before joining Trans Canada Trail in 2020, Meghan helped to transform some of Canada's most respected national brands, including Habitat for Humanity Canada, YMCA Canada, and Kids Help Phone, into cause-driven charities with global brand awareness. She has been recognized for her work with several marketing awards. Meghan is a public speaker, and has been interviewed as a thought leader in numerous contexts, including an international best-selling book focused on strategic, mission-centred collaborative brand management for non-profits.
Meghan has a long history of community volunteerism, including her present role serving on the Michael Garron Hospital Foundation';s Marketing Committee of the Board, in Toronto's east end. Meghan is also an Advisory Board Member of the Canadian Health and Fitness Institute. She holds a Bachelor of Arts from the University of Western Ontario.
Meghan can often be found on the Great Lakes Waterfront Trail, her favourite section of the Trans Canada Trail, in the Beaches, Toronto. While on the Trail, she relishes the sound of the waves crashing along the shore of Lake Ontario, and time spent recharging outdoors with her family and her golden retriever, Louie.