3 February, 2020
10 Instagram accounts that encourage all outdoor enthusiasts to come outside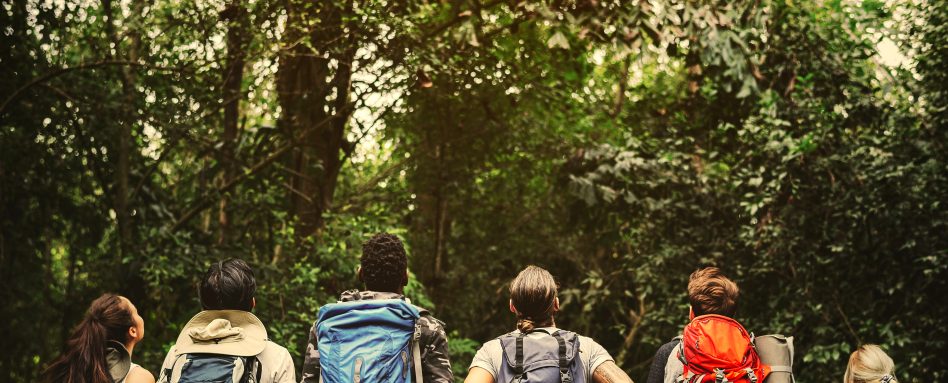 The benefits of being outdoors are universal – clearing our minds of everyday distractions, getting exercise without having to hit a treadmill, and discovering something new about the land that we live on.
But, up until recently, the outdoors was portrayed as a place that only a certain group of people could enjoy. Not only did this leave people of different ethnic backgrounds, body sizes, abilities and orientations feeling unwelcome – it also ignored the diversity of people who use trails and participate in outdoor activities in Canada.
Thankfully, inspiring outdoor enthusiasts are sharing their stories and adventures on social media, so that everyone can feel at home on trails.
Here are some of our favourite Instagrammers who prove that enjoying nature is truly for everyone.
1. Filsan Abdiaman
The founder of Project Love Run, Filsan is a Kenyan-Somali-Canadian woman who initially started running to cope with anxiety, depression and body dysmorphia.
After she felt the benefits of running for herself, she was inspired to invite other women to join her.
Project Love Run now hosts regular "run and brunch" events in Vancouver, Calgary, Edmonton and Toronto, which focus on empowering women, practicing self-care and encouraging each other to discuss issues around anxiety, depression or body insecurity.
View this post on Instagram
2. Miesha Dennis
With a mission to change the narrative of diversity and inclusion in the outdoors, Brown Girl Outdoor World is the brainchild of hiker, angler, climber and outdoor enthusiast, Miesha Dennis.
Based in Toronto, Miesha not only shares her outdoor adventures and reflections on the state of inclusion in the outdoor industry.
She also invites others to join her via her increasingly popular Facebook page.
View this post on Instagram
3. Indigenous Women Hike
A citizen of the Nüümü and Yokut Nations, Jolie Varena founded Indigenous Women Hike to help women in her community reconnect with the land and find mental and spiritual healing in nature.
Starting with a hike retracing Jolie's ancestors' trade routes along the John Muir Trail in California's Eastern Sierras, this growing online community has grown to inspire Indigenous women across North America while raising funds to provide rentable outdoor gear and education to low-income families in Payahuunadü (the region that is known today as Owens Valley).
View this post on Instagram
4. Robin Pacquing
If you're ever dreamed about catching waves along the shores of The Great Lakes, Robin Pacquing is your go-to inspiration!
The Pickering-based surfer's family moved to Canada from the Philippines and encouraged her to enjoy the outdoors from an early age.
Today, she's the founder of the awesome surfer collective, LakeSurfistas, and even ventures out for some winter surfing (yes, you read that correctly!)
View this post on Instagram
5. Bonnie Thornbury
Growing up in a town of just 200 people, Bonnie Thornbury always had a deep connection to nature.
Identifying as a queer non-binary person, they started a six-month, 5,000-kilometre solo walk on The Great Trail from Vancouver in 2019. They will continue this journey all the way to Newfoundland in 2020.
Bonnie's goals for their journey aren't just about discovering new landscapes, but also connecting with people and communities along the way.
View this post on Instagram
6. Mario Rigby
Born in Turks and Caicos Islands and based in Toronto, Mario Rigby already has numerous long-distance expeditions under his belt.
In 2018, he completed an epic two-year, eight-country trek from Cape Town, South Africa to Cairo, Egypt. The following year, he tackled sections of The Great Trail with a 72-day cycling tour from Victoria, British Columbia to St. John's, Newfoundland.
When he's not on a life-changing geographical adventure, he's committed to inspiring people of colour – and all humanity – to get out, be brave and explore the world.
View this post on Instagram
7. Outdoor Afro
Founded in 2009, Outdoor Afro is credited as a game-changer for representation of African Americans in the outdoors.
With a network of nearly 80 leaders in 30 U.S. states, its mission is to help people take better care of themselves, their communities and the planet, and to celebrate and inspire African American connections and leadership in nature.
View this post on Instagram
8. Mik Turje
An accomplished thru-hiker, Vancouver-based Mik Turje had already tackled the Te Araroa Trail in New Zealand. But their most recent expedition – a 1,200-kilometre trek along The Great Divide Trail – was their first long-distance adventure as an openly trans person.
Physically and emotionally, Mik's journey was far from a walk in the park. But their story – charted on their Gayly Forward blog – is one that will inspire and energize any aspiring outdoorsperson.
View this post on Instagram
9. Jenny Bruso
For a long time, Jenny Bruso believed she was a city kid who would never be represented in the outdoors.
But in 2012, an "accidental hike" led her to realize that the great outdoors could also belong to her.
Instead of focusing on exercise as a way of "fixing" our perceived physical flaws, Jenny's body-positive blog and Instagram account share her experiences – and the experiences of others – who want to bust the myths of what an outdoorsperson should look like.
View this post on Instagram
10. Colour the Trails
Led by Judith Kasiama, advocate for diversity and inclusion in the outdoors, Colour The Trails is a recently-established group that organizes outdoor meetups for people of colour and allies in Vancouver.
Since November 2019, the group has hiked St. Mark's Summit, run along the Fort-to-Fort Trail in Fort Langley and hosted an evening of skiing and snowboarding at Mount Seymour.
View this post on Instagram
Making a donation to TCT is simple!
Thanks to the generous contributions of donors like you, TCT and its local partners work tirelessly to ensure The Great Trail of Canada remains a legacy that we can all take pride in. Visit our Give page to find out how you can support us today.