8 January, 2018
11 Masterpieces That Capture The Great Trail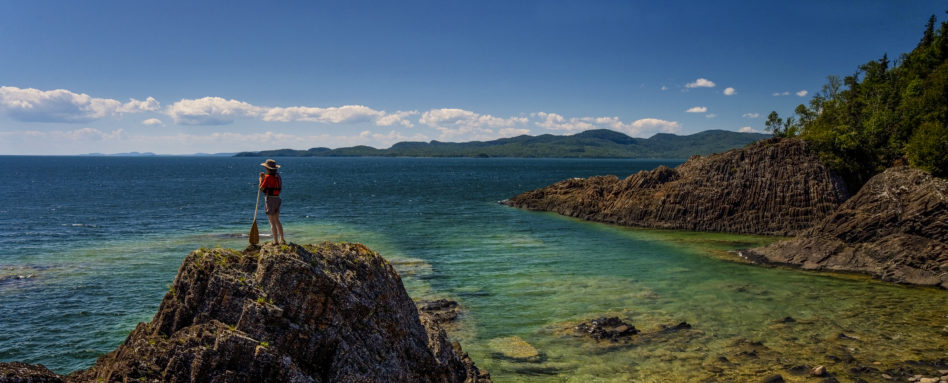 As anyone who has explored part of The Great Trail will know, nature truly has the power to shape us – as citizen scientists, as athletes and, of course, as artists.
To commemorate the 100th anniversary of the Group of Seven this year, we'd like to highlight their work (and the work of other Canadian artists) that celebrates the beauty and power of our shared landscapes. You can also find some of the locations that inspired their art on sections of The Great Trail of Canada!
The following is a selection of our favourite works, as featured in The Good Lands, a collection of Canadian art.
1. 'Untitled Rock Painting' Unknown Anishinaabe Artist, 17th-18th century
Located on a sacred site for the Anishinaabe community, the Agawa Rock Pictographs are a fascinating vision deep into Canada's past. For generations, people used to come to this place to record dreams, visions and events. These images of caribou, moose, deer and bear are still visible today, but are sadly fading slowly as natural erosion takes place.
Find the Trail: Lake Superior Water Trail, ON
2. 'Upper Part of the Mackenzie River, Woods on Fire', George Back, 1825
Aside from being a British naval officer and explorer of the Canadian Arctic, Admiral Sir George Back was also an accomplished painter. His watercolours of his adventures across Canada often depict freezing landscapes and brave adventurers. In this scene, plumes of smoke emerge from a distant forest while two wooden boats do battle with tempestuous waves on the Mackenzie River.
Find the Trail: Mackenzie River Trail, NWT
3. 'Serenity, Lake of the Woods', Franz Johnston, 1922
Born in Toronto in 1888, Frank "Franz" Johnston was a founding member of the Group of Seven and was Principal of the Winnipeg School of Art in the early 1920s. In this large painting (102.3 x 128.4cm), Johnston successfully captures the light, expanse and colourful intensity of the Lake of the Woods in Ontario. This work is now exhibited at the Winnipeg Art Gallery.
Find the Trail: Lake of the Woods Trail, ON
4. 'Montreal Harbour from St. Helen's Island', Pegi Nicol McLeod, 1933
One of the best-known Canadian painters from the early 20th century, the works of Pegi Nicol MacLeod focused on gardens, children and the hustle and bustle of life in the city. In this oil painting, she offers a peaceful vision of an urban landscape – Montreal's skyline as seen from Île Sainte-Hélène from a viewpoint among trees.
Find the Trail: Axe Christophe Colomb and Parc Jean-Drapeau, QC
5. 'From the Gypsum Quarry, Ingonish Beach', Marion Bond, 1935
A painter in both realistic and abstract styles, Antigonish-born Marion Bond began drawing and painting at a young age and later taught at the Nova Scotia College of Art. In this sparkling landscape, she highlights the cerulean coastal waters of Cape Breton, as well as the snow on the hillsides.
Find the Trail: North Sydney to Port-Aux-Basques Ferry, NS
6. 'Falls, Montreal River', J.E.H. MacDonald, 1920
J.E.H. MacDonald, an English-born painter and co-founder of the Group of Seven, travelled to the Canadian Rockies every summer beginning in 1924 to paint the mountainous landscapes that characterized his later work. In contrast, this earlier painting in Ontario depicts gushing falls, autumnal colours, towering mountains and trees of every description. Much of Canada's diverse beauty can be seen in this landscape.
Find the Trail: Lake Superior Water Trail, ON
7. 'Warblington, P.E.I. from Gisborne House', Fanny Amelia Bayfield, 1856
After reputedly studying art in England with an instructor who also taught Queen Victoria, Fanny Amelia Wright came to Canada with her father in 1833. She later married Captain Henry Wolsey Bayfield and later settled in Charlottetown, Prince Edward Island. There, she taught art to local women and produced numerous oil paintings, including this pastoral scene.
Find the Trail: Confederation Trail, PEI
8. 'Mists and Glaciers of the Selkirks', Frederic M. Bell-Smith, 1911
This striking depiction of the Selkirks, shrouded in mist, is one of Frederic Marlett Bell-Smith's best known paintings. After being offered free travel passes from Canadian Pacific Railway, Bell-Smith spent many years painting the landscapes of Western Canada and became a strong advocate for a Canadian school of art.
Find the Trail: Slocan Valley Rail Trail, BC
9. 'A Prairie Trail (Scherzo)', Charles W. Jeffreys, 1912
In this painting, we get a very different image of Canada to the mountains and lakes often portrayed by the Group of Seven. Rolling fields, pastoral shades and the seemingly-endless horizon take centre stage here in this bright work.
Find the Trail: Regina to Wascana Trails, SK
10. 'Canoe Manned By Voyageurs Passing a Waterfall', Frances Ann Hopkins, 1869
The exploration of Canada by voyageurs, French-Canadian canoeists who transported fur in the 19th-century, is a common theme in the work of Frances Ann Hopkins. This work is no exception – in fact, the artist even inserted herself into this painting!
Find the Trail: Voyageur Trail – Casque Isles, ON
11. 'Northern River', Tom Thomson, 1915
Referred to by the artist as his "swamp painting", 'Northern River' by Tom Thomson is now treasured as a Canadian masterpiece. For art aficionados, this work is a masterclass in the use of colour and composition. For nature lovers, this painting simply reflects the wild, shimmering beauty of untamed forests and riverbeds.
Find the Trail: Parcour des Anses, QC
To delve deeper into the world of the Group of Seven and other great Canadian artists, check out the online activities offered by the McMichael Canadian Art Collection. You can also enjoy a recording "The Group of Seven at 100: Virtual Curatorial Talk" via this link.