21 February, 2017
3 Ways to Discover Montreal along The Great Trail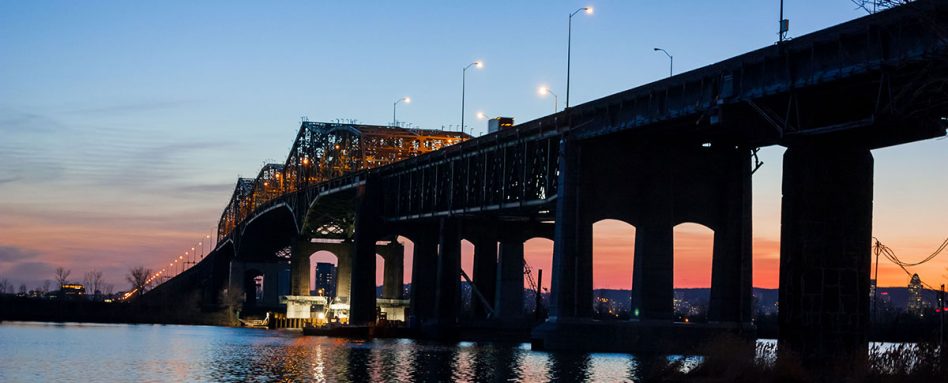 While The Great Trail does meander through rural areas and remote wilderness; it's also a great way to explore Canada's more populated, urban areas. In fact, 80% of Canadians live within 30 minutes of the Trail, whether in a small town, remote village or bustling city. And, speaking of bustling cities, check out these three Trail sections in the beautiful city of Montreal, each of which offers a different type of urban adventure. Take your pick or try all three!
Industrial Renaissance: The Lachine Canal
During the Industrial Age, the Lachine Canal was part of the sea-trade network between Canada and the rest of the world. Transport ships have since grown too large for the Canal, and now use the Saint Lawrence Seaway instead. In their place, pleasure boats are now predominant on the waterway, and the Canal has become an outdoor-leisure destination lined with footpaths and bike lanes. As you walk, cycle or ski alongside the Canal, you'll notice former factories and warehouses transformed into art galleries, theatres, breweries and shops.
Photo credit: Artur Staszewski
Spa Break
Aboard a docked ship near the head of the Lachine Canal's pathway, Bota Bota spa offers views of the harbour and the architectural landmark Habitat 67 — all from the comfort of a hot tub. Just up the street, Scandinave Spa, is another good place to get your Zen on, before or after an urban excursion.
Locals like to buy their fresh produce, cheeses and flowers at this historic marketplace, but it's also a great spot to have a meal (the Satay Brothers' Singaporean street-food stall is famous city-wide) or enjoy a game of outdoor chess on evenings and weekends.
Photo credit: Matias Garabedian 2
---
The Mighty Saint Lawrence
Flowing from the Great Lakes to the Atlantic, the Saint Lawrence River has long attracted travellers in search of adventure. Explore it yourself: walk or cycle The Great Trail as it follows Montreal Island's scenic shores. If you'd like to get out on the water, riverboat tours are available, as are canoe and sea-kayak rentals on the Boucherville Islands. Stay on the recommended paddling circuit, which weaves through the islands and avoids the river's strong main current — they don't call it "mighty" for nothing.
Photo credit: KMo Foto
Old Montreal
Stroll through Montreal's first streets, where horse-drawn carriages, colonial mansions and art-nouveau hotels evoke the many layers of the city's 375-year-old history. Stop into Notre-Dame-de-Bonsecours's ornate chapel and admire the tall-ship replicas hanging from the ceiling. Traditionally, sailors visited this church to give thanks for a safe journey.
Photo credit: Jazmin Million
Jean Drapeau Park
The Great Trail crosses the Saint Lawrence to Jean Drapeau Park, which is comprised of Saint Helen's Island and Notre Dame Island. The latter is an artificial landmass originally built for Expo 67. Check out the Biosphere, a former Expo pavilion and beautiful steel-tubed dome. The park houses an interactive museum dedicated to Canada's landscapes and environment — a fitting stop along The Great Trail, if ever there was one.
Photo credit: leo gonzales
---
Lifestyle Central: The Plateau
Winding staircases, boutiques, terraces, cyclists, indie coffee shops — the Plateau is the archetype of Montreal's brand of cool. Discover it by following The Great Trail or by taking a walking tour where you'll be guided to tasty eateries, craft breweries or beautiful street art.
Photo credit: Gerry Lauzon 
La Fontaine Park
The Great Trail runs alongside the Plateau's biggest park, which boasts two sparkling ponds, waterfalls, petanque courts, a skating rink, a baseball diamond and an open-air theatre. La Banquise, a restaurant across the street from the park's southwest corner, sells a decadent take-out poutine, and what better place to enjoy it than in the great outdoors?
Photo credit: Andrea Schaffer
Brunch
The Plateau has more spots for brunch then you'd be able to sample in a year of Sundays. Whether you prefer sweet fare or savoury delights, espresso or café filtre, you're sure to find something to titillate your taste buds. If you don't know where to start, try the retro classic Beautys Luncheonette, or the low-key Bishop & Bagg. Savour your meal, talk up a storm and when you're done, get back on The Great Trail for a leisurely walk or exhilarating bike ride, followed by an afternoon nap, because that's the Montreal way!