29 September, 2017
4 Tips for the Perfect Fall Day in the Laurentians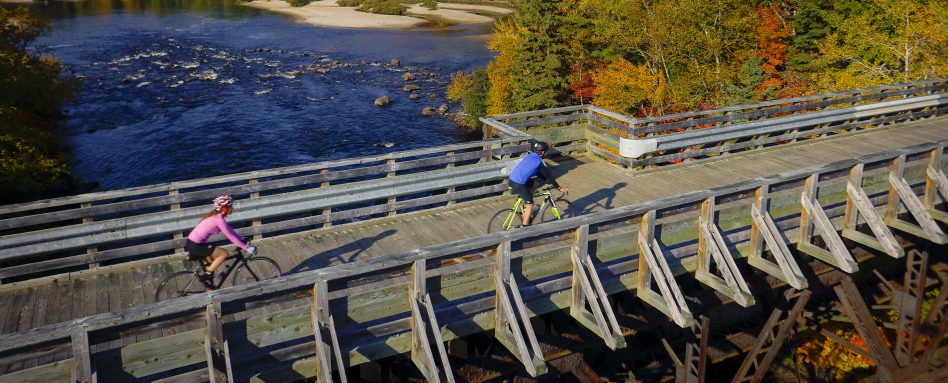 Quebec's national and provincial parks are busy all year round, but in the fall they are at their most spectacular.
Shades of gold and red fill the forests and mountains, as the maple, beech and oak trees explode into colour. Gentle breezes blow along The Great Trail , and numerous lakes in the Laurentians sparkle in the sun.
One of the best ways to experience a true autumn day in Quebec is to visit The Great Trail in the Laurentian region, just north of Montreal. Here are a few of our favourite activities for this time of year!
Get on your bike on the P'tit Train du Nord

At 232 km, the P'tit Train du Nord is Canada's longest linear park – not exactly "p'tit"! Although that distance might sound daunting, this beautiful section of the Trail is perfectly suited to cyclists of all levels.
This greenway gravel trail follows the path of a former railway line, and is relatively flat – meaning very few uphill struggles for cycling beginners. What's more, it's car-free!
If you'd prefer to coast along this section of the Trail, we recommend travelling from north to south, which allows you to cycle downhill for most of the way.
Discover the Healing Power of Walking
If cycling isn't your thing, exploring the P'Tit Train du Nord on foot is also an option. Indeed, the simple activity of walking has countless benefits for both your physical and mental well-being – especially if you go with friends and family!
Beginning at Bois-des-Filion and ending at Mont-Laurier, the P'tit Train du Nord is dotted with heritage train stations, which have now been converted to rest stops and cafes. You'll also be able to stop at the many villages filled with restaurants, B&Bs, shops, art galleries and other cultural activities.
Whether you want to walk 10,000 steps a day, or simply want to take in The Great Trail at a more human speed, walking is a fantastic way to start your Trail adventures this fall.
Test Yourself in the P'Tit Train du Nord Marathon
Feel like you need a challenge? Every year in autumn, the P'tit Train du Nord offers one of North America's best marathons. Stretching between the villages of Val-David and St-Jérôme, it consists of two races – one measures 42.2 km, while the other is 21.1 km.
The brainchild of Alain Bordeleau, one of Quebec's great Olympian heroes, the P'tit Train du Nord Marathon has now become the place to be for athletes and amateur runners in fall. The pure air, the stunning fall colours and easy-to-follow linear trail make it a must-attend event for anyone with a competitive side.
Sign up and run this fastest course in North America, as certified by the Boston Marathon. The P'tit Train du Nord Marathon is held in late October each year.
Laurentians from above in Mont-Tremblant
Once you've finished on the P'tit Train du Nord, why not visit the nearby Mont-Tremblant National Park? There, you'll find a panoramic gondola, which takes you right to the summit of this imposing mountain.
A trip on the gondola is a wonderful activity, and is ideal if you're travelling with young children.
Take in the wonderful myriad of autumnal shades below you, and appreciate how far you've journeyed.