6 September, 2016
5 Family-Friendly Fall Hikes Across Canada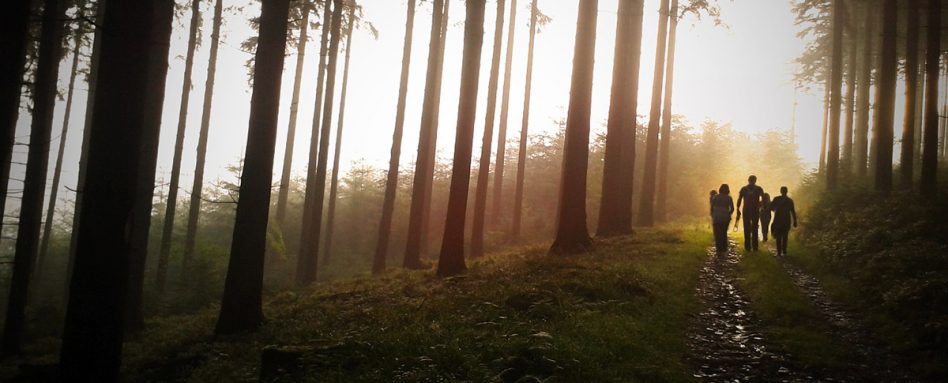 The Great White North is home to some of the best hiking terrain the world over, and with the leaves just starting to change, it's the perfect time to take the whole family out for an excursion. But finding the right fall hike for everyone in your crew can be a challenge. It has to be safe, not too challenging, with plenty of pit stops along the way to keep the kids engaged. That's why we've scoured The Great Trail for a handful of family-friendly hikes to help get you out there. Time to lace up those hiking boots!
1. Sea to Sky Trail, British Columbia
About an hour from Vancouver by car, the Sea to Sky Trail is a hiker's paradise. With a wealth of gorgeous routes to choose from, you won't be hard-pressed to find one suitable for every trekker in the family. If you're looking for a shorter excursion your crew can complete before the little ones grow impatient, the Brandywine Falls Trail is an ideal pick. At just 1 km long, the trail winds through the forest, crossing a covered wooden footbridge and culminating in some seriously spectacular waterfalls.
Photo credit: Erik Drost
2. Salt Marsh Trail, Nova Scotia
If you're looking for a slightly lengthier hike, these coastal wetlands have a lot to offer for every age group. Just thirty minutes from Halifax, the trail stretches across just over 7 km of stunning, relatively flat and well-maintained seaside landscape. Interpretive signs dot the landscape to clue hikers into this former railway's history, so your family will benefit from a bit of education along the way. Not feeling ambitious enough to tackle the entire trail? Opt for a shorter (but no less scenic!) route by taking the trail across the water and then turning back.
Photo credit: Nhoulihan 
3. L'Estriade, Quebec
An hour away from Montreal, there's a veritable wonderland of idyllic countryside to discover in the Eastern Townships, with plenty of prime hiking opportunities. One trail well worth the trek? L'Estriade. Stretching from Granby to Waterloo, this paved trail is popular among cyclists but makes for a lovely, beginner-level hike, too. Home to over 200 different species of birds, it's the perfect destination if you happen to be a family of animal-lovers. To keep the kids occupied, make a game of spotting as many different types of birds as you can along the trail. Once you've completed your trek, treat the kids with a stopover at the renowned Granby Zoo, where they'll be able to visit with over 1000 different animal species.
Photo credit: Eric Paradis
4. Caledon Trailway, Ontario
This is a pretty special place to hike at any time of year. But come autumn, with fall foliage all around, it's a must-see. Just an hour north of Toronto, there's 26 km of gravel trail to discover with greenery all around. After hiking to your hearts' desire, don't miss the chance to make the most of apple picking season at Albion Orchards, just a few minutes from the Trailway. One of the country's premier apple-picking destinations, there are seven varieties of delicious apples to sample in this much-loved orchard, plus a country store where you can sample some of the best local produce around. What's even sweeter? Admission is free!
Photo credit: Michael Gil
5. Banff Legacy Trail, Alberta
Few places on earth are as beautiful as Banff in the fall. Take in the scenery by treating yourself (and your loved ones!) to a breathtaking hike through the wilderness along the Banff Legacy Trail. The entire trail runs just over 20 kilometres, but that doesn't mean you have to hike the whole thing. Whether you're a family of veteran trekkers or novices to the game, there's a trail for every level of ability and endurance – not to mention plenty of prime picnicking spots along the way.
Photo credit: Eileenmak