29 March, 2017
5 Great Campgrounds with Easy Access to The Great Trail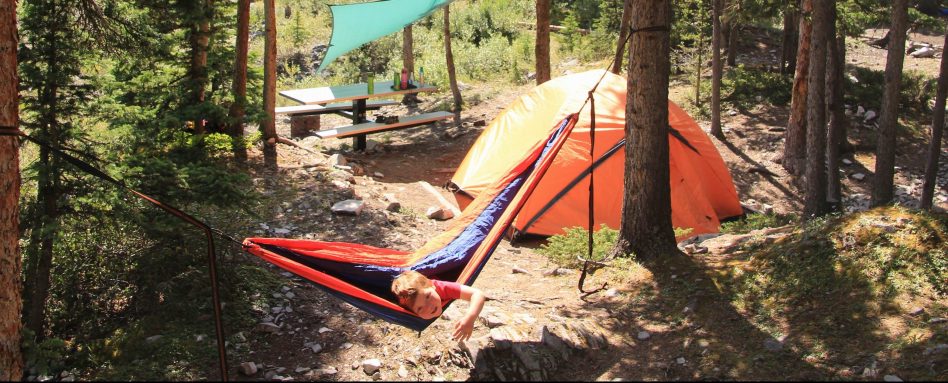 Location is everything with camping and my family is always looking for those hidden trailside gems.  We want to be able to bike right out of our campsite onto great trails or to launch our boat from our site without having to drive anywhere. And, imagine how awesome it would be if you could go for a hike in the morning and return to camp for lunch, without ever having to break camp or jump in a vehicle.
Below are some of our favourite campgrounds in Western Canada where you could practically hike, bike, or canoe out the door of your tent or RV onto The Great Trail.
Tunnel Mountain Village, Banff National Park, Alberta
Tunnel Mountain Village is divided into three campgrounds to accommodate varying sizes of RVs and styles of camping. We've always liked camping in Tunnel Village which only has unserviced sites but offers a more natural experience than Village II or the Trailer Court.  Regardless of which campground you choose, you'll be able to walk or bike right off your site onto fabulous trails above the Town of Banff.
Spend your morning mountain biking or hiking around the Tunnel Bench Loop, walk or ride down into town for lunch, and then take a quick hike up to the summit of Tunnel Mountain where you could have a picnic dinner. Alternately, bike down to the Legacy Trail, a beautiful section of the Trans Canada Trail, and ride to nearby Canmore only 20 km one way. The trail is paved and relatively flat making it a perfect ride for families. Roam buses can take you back to Banff or you can arrange for a shuttle with a local company if you don't have the energy to bike both directions.
Spray Lakes West Campground, Kananaskis, Alberta
This campground is located in Spray Valley Provincial Park outside Canmore and is your gateway to the High Rockies Trail. This brand new trail connects Goat Creek on the boundary of Banff National Park to Elk Pass on the British Columbia border. It is the westernmost section of the Trans Canada Trail in Alberta and, when completely finished, promises to be a true star in the Kananaskis trail system.
The Spray Lakes West Campground is a first come first served campground and offers basic amenities including fire pits and outhouse toilets. There are only 50 campsites so it's recommended that you arrive early or try to grab a site mid-week. From the campground you can jump on the trail and ride south towards Peter Lougheed Provincial Park or head north towards Goat Creek and Banff. The 3.8-km section between the campground and Goat Pond to the north is flat and great for children.
There are dozens of other amazing hiking trails in the area, including the popular one to Chester Lake, or you could spend a few hours paddling across Spray Lake if you need a change of pace from walking and biking.
Peter Lougheed Provincial Park Campgrounds, Kananaskis, Alberta
This large provincial park south of Canmore offers a choice of 14 different campgrounds with backcountry options, walk in campsites for tenters, serviced sites at Boulton Creek or Elkwood for those with RVs, a few group campgrounds, and even one campground that you can access by canoe across Upper Kananaskis Lake. The High Rockies Trail goes through the park with a lovely paved section connecting the Canyon, Elkwood and Boulton Creek Campgrounds.
For those wanting to follow the Trans Canada Trail into the backcountry to camp, the High Rockies Trail heads for Elk Pass and over into Elk Lakes Provincial Park where you can camp at Lower Elk Lake. There is also a very comfortable Alpine Club of Canada Cabin near the lake that is lovely in spring when nights are still cool.
Kokanee Creek Provincial Park Campgrounds, the West Kootenays, British Columbia
Camping in Kokanee Creek Provincial Park provides a unique opportunity to paddle a section of the Trans Canada Trail. Camped on the shore of Kootenay Lake, you'll be able to paddle part of the 30-km West Arm Paddle Route.
Kokanee Creek has three campgrounds with vehicle accessible sites and the choice campground is Sandspit for lakefront sites. Those wanting service for RVs will find it at the Friends Campground, which has electrical service at several sites.
Other popular trails in the area are those around the Town of Nelson and the Great Northern Rail Trail, which extends 40 km from Nelson south to Salmo. When your muscles need a break from the paddling, hiking or biking make sure you stop to soak at one of the many hot spring pools in the West Kootenays.
Wright's Beach Camp, Penticton, British Columbia
Last, but certainly not least, Wright's Beach Camp is your "on top of the trail" campground for the Kettle Valley Rail (KVR) Trail, one of my favourite sections of the Trans Canada Trail. The KVR goes right through Wright's Beach Camp and from your campsite you have several options for how you can spend your day biking or walking the trail.
The first KVR tour that we enjoyed from this campground is from Chute Lake to Penticton, a distance of 40 km to the Penticton City limits, and very doable in a day by bike as it's mostly downhill. With two vehicles, you can drive up to Chute Lake and then bike back to your campsite. Have a quick rest and then drive back up to get the vehicle you stashed near the lake.
Alternately, if you don't have two vehicles, you can bike south from camp on a spur line of the KVR heading for Okanagan Falls. Pack your swim suit so that you can jump off the trestle bridge outside of Okanagan Falls and make sure you stop at Tickleberry's for ice-cream before biking back to camp. This is an easy 13-km ride (one way) and we've done it as a family with my husband riding back to camp for the truck while we hang out at the beach in town.
Note that most sections of the KVR are not paved and can definitely be enjoyed on foot as well as on a bike. We just find that we cover more ground if we bike these rail trails and we enjoy returning to camp each night rather than hiking the trail and backcountry camping along the way.
Wright's Beach Camp caters primarily to RVs with full hook ups at most sites. Tenters wanting to enjoy camping on the KVR may enjoy the rustic amenities of Chute Lake above Penticton or the lakeside campground at Banburry Green, south of Penticton.
---