27 February, 2017
5 One-of-a-Kind Ways to Experience The Great Trail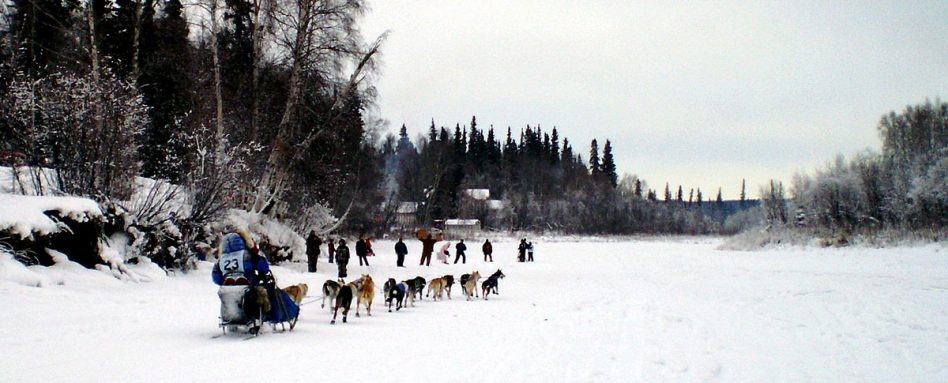 Canada is a country of outdoor adventures — and we've rounded up some of the most unique experiences to embark on along The Great Trail.
---
Dog Sledding in the Great White North
There are plenty of ways to enjoy winter to its fullest, from snowshoeing to cross-country skiing, skating to snowboarding. But one quintessentially Canadian experience that embraces the snowy season in all its glory is dog sledding. Every year at Yukon Quest — part of which takes place on The Great Trail — mushers head off on a 1,600 km race from Whitehorse, Yukon, to Fairbanks, Alaska. It's a true test of stamina, skill and dedication, with participants typically packing 250 pounds of food and gear. If you plan on participating in next year's event, make sure you read musher Frank Turner's Tips to Keep Warm on the Trail. This year's winner was Alaskan Matt Hall — we'll be keeping our fingers crossed for a Canadian win in 2018.
Crédit photo: James Brooks
Biking Goat Creek Trail
For a fun cycling adventure — and one you can enjoy through spring, summer and fall — get atop a mountain bike and hit the Goat Creek Trail. The scenic route runs through a valley between Banff and Canmore, Alberta, with gorgeous views throughout. It's a two-to-three- hour ride one way on a gentle grade, so novices need not worry. The trail is near the Banff Springs Hotel, which makes for an ideal spot to unwind after a spirited ride.
Photo credit : Miguel Vieira
Horseback Riding on the Cavalier Trail
Another awesome way to experience The Great Trail is on horseback, and the town of St-Basile-de-Portneuf is the perfect place to do it. This quaint Quebec town is home to a committed group of Great Trail volunteers, who have been working for years to develop the Cavalier Trail. With clear paths, lush greenery and towering trees, it's an equestrian's dream.
Photo credit: Cheval Québec
Hike and Spend the Night at Wanuskewin Heritage Park
Just outside of Saskatoon, you can discover over 6,000 years of history and culture at Wanuskewin Heritage Park. With the park's "Pe kapaysik Miykowapi" program — which translates to "Come and Spend the Night" — visitors can hike all day and then immerse themselves in the culture and history of the Indigenous peoples of the Northern Plains with an overnight stay in a traditional tipi. Activities include snacking on bannock by the campfire, engaging in discussions about life on the Plains, and exploring trails.
Photo credit : Kyla Duhamel
Paddle Through Sea-to-Sky Marine Trail
This paddler's paradise connects The Great Trail from Horseshoe Bay to Squamish, BC on majestic Howe Sound, with plenty of spots to break for lunch or to set up camp along the way. The perfect family trip to take come summer, the Sea-to-Sky Marine Trail is dotted with untouched islands, waterfalls and old-growth forests waiting to be explored. Whether you experience it by kayak or canoe, there's no better way to take in the region's breathtaking beauty.
Photo credit : Kevin Teague