22 June, 2016
5 Water Adventures to Experience this Summer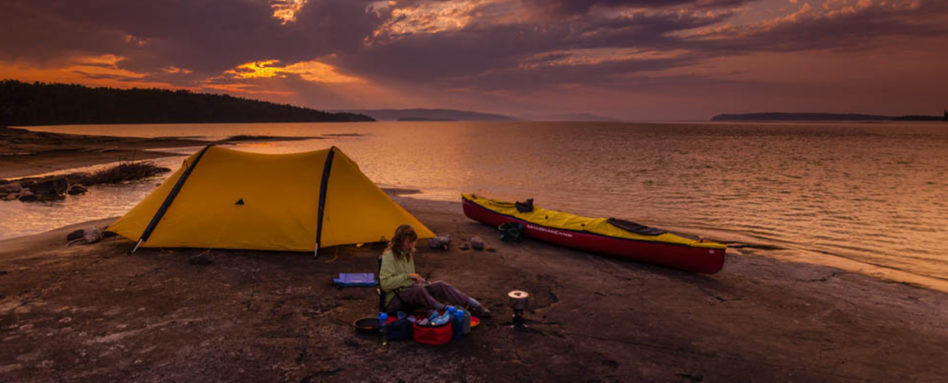 Like the country itself, The Great Trail of Canada stretches across not only land but also rivers, inlets and lakes. When summery weather has you dreaming of hitting the water, check out these delightfully diverse paddling opportunities that showcase Canada's cultures and natural beauty.
Paddle to your morning coffee on the Sea to Sky Marine Trail
This newly developed water route traverses the Howe Sound northwest of Vancouver. With a backdrop of snow-capped mountains in the distance, get a close-up look at rocky islands, old-growth forest and waterfalls before pulling in to relax at one of the trail's 10 scenic tenting sites.
Once hard-hit by heavy industry, the Howe Sound's ecosystem is making a comeback all the way up to the large predators, according to Gordon McKeever, who helped to plan the marine trail in an effort to foster an environmentally sustainable economy in the region. Lucky paddlers might find themselves sharing the water with harbour seals, Pacific white-sided dolphins, California sea lions or even the occasional whale, says Norm Hann, a local expedition guide and conservationist. His favourite stretch runs from his home in Squamish to Britannia Beach, where a friend of his runs a café. "I call it the coffee run," he says, "and it's the perfect way to start the day."
Photo Credit: Norm Hann  
Discover northern life on the Mackenzie River Trail
Wilderness and wide northern skies are what to expect on Canada's longest river. "You get into a meditative rhythm," says Michelle Swallow, author of The Mackenzie River Guide, "and there's lots of time to reflect and soak in the landscape." In summertime near the Arctic Circle, she adds, the long sunsets and sunrises reflect stunningly on the water.
Every few days, the river trail passes a community; this provides the chance to stock up on food, consult with locals about what kinds of conditions to expect up ahead and maybe catch a baseball game or watch a traditional hide tanning. "It's a cultural experience—a way to get a taste for what it's like to live in the Northwest Territories," says Swallow. Come equipped with previous paddling experience, bear spray and a visitor's sport-fishing license if you'd like to catch some of your own fresh dinners along the way.
 Photo Credit: Courtesy of Wayne Wilson
Learn to paddle board on the Chief Whitecap Waterway
This segment of the South Saskatchewan River winds through valleys from Gardiner Dam to Saskatoon. Fine-sand beaches offer fire pits, picnic tables and places to camp overnight should you so choose. Chad Guenter, who organizes yearly group paddle-boarding trips on the waterway to raise awareness of mental-health issues, says it's a serene voyage where he's seen deer playing in the water and bald eagles soaring overhead.
Marcus Storey, the co-owner of a sports shop in Saskatoon, enjoys viewing the Chief Whitecap Waterway from atop of a stand-up paddle board. "Up there, you can see all the fish as they scatter at your approach," he says. On a day without excessive wind, the water is usually gentle enough for beginners to give paddle boarding a try. Regardless of what kind of paddle craft you're using, you can follow the river right into the city, where Storey recommends getting a cold beer to celebrate completing the journey.
 Photo Credit: Courtesy of  Chad Guenter
Trace ancient First Nations canoe routes on Lake Superior
Archeological evidence shows that people have been paddling Ontario's Lake Superior for thousands of years. Whether you're in a 36-foot-long voyageur-style canot du maître (available for group rentals) or a smaller vessel, "you feel like you've gone back in time," says Gary McGuffin, a writer, photographer, documentarian and trail planner. "As soon as you get far enough from the shore that you can't hear the traffic noise, you start to feel a oneness with the lake." It's easy to see how Superior inspired so many of the Group of Seven's iconic landscape paintings in the 1920s, McGuffin adds. "You're surrounded by the Precambrian Shield rock formations, the boreal forest, and the bluest water you've seen in your life."
In 2017, a formal water trail with 16 access points—including five launch sites suitable for people with mobility issues—will guide paddlers along the north shore. In the meantime, the pristine great lake continues to welcome to anyone willing to plan their own excursion.
Photo Credit: Joanie and Gary McGuffin
Experience Nova Scotia hospitality on Bras d'Or Lake
The rolling hills and picturesque villages bordering Bras d'Or Lake are home to a variety of cultures (including Mi'kmaq, Scottish and Acadian) and animals (including white-tailed deer, osprey, loons and foxes). The lake and the surrounding area have been designated a UNESCO Biosphere Reserve, and the lesser-known western shore in particular is "an untouched jewel," according to Candace MacKenzie, who enjoys kayaking near Marble Mountain, a town perched on a cliff overlooking a cluster of islands. "The people who live [in the region] take pride in their homes and, at the same time, are the first to welcome visitors from away," she says. In the summer of 2017, a Trans Canada Trail water route will open on this unique inland sea. Until then, paddlers can count on local expertise to help them explore the coastline.
Photo Credit: Candace Mackenzie