2 December, 2019
5 ways your gift to TCT keeps on giving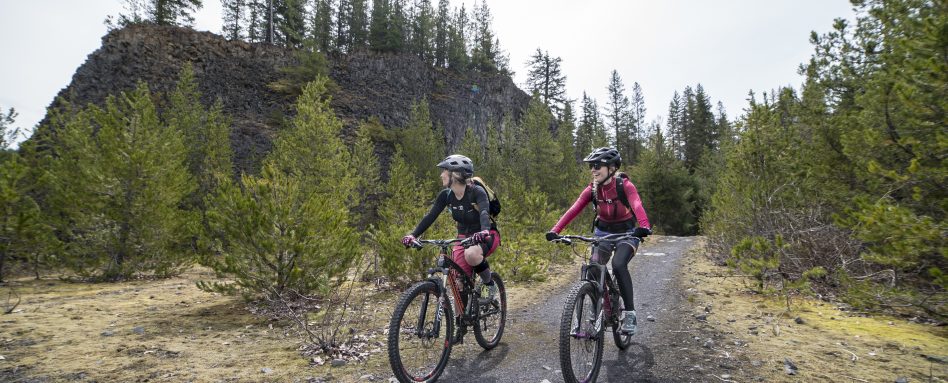 Connecting us all via cities and wilderness, on land and on water, The Great Trail of Canada is a legacy that fosters unity, collaboration and inclusion. However, this incredible national network would cease to exist without the generous and steadfast support of donors.
Your help empowers our local partners to make the Trail more accessible, to provide more non-motorized experiences along it and to protect it from destruction during severe weather events. These crucial improvements leave a lasting legacy and ensure that the Trail will be cherished this year, next year and for generations to come.
Here are some of the many ways your donation makes a difference
You help Canadians stay active on greenways
Providing a safer experience for walkers, hikers and cyclists continues to be a priority for TCT. Not only do greenways help to ensure we do this, they also give us the chance to work with communities on innovative (and fun!) ways to encourage active living.
This year, we were delighted to support the construction of the St. Thomas Elevated Park in Ontario, which re-routed The Great Trail from a busy roadway to an abandoned rail trestle. The elevated park is a beautiful example of what greenways can be – an easy way to enjoy nature, an outdoor art gallery and a gathering place for the local community.
In Manitoba, a section of the South Whiteshell Trail in Penniac Bay was successfully moved from the shoulder of a highway to a boardwalk along the water.
We're proud of these crucial strides towards more non-motorized experiences on the Trail, which would be impossible without
your donations.
St. Thomas Elevated Park. Photo by Laurie Kenny
You support Indigenous leadership of Trail development
In the spirit of reconciliation, TCT actively supports Indigenous communities that wish to share their culture and experiences along the Trail.
In 2019, we were proud to continue our work with Eskasoni First Nation in Cape Breton. With three grants from TCT, the community has installed three accessible water access points to the Bras d'Or Lake Water Route.The access points form an integral part of Eskasoni First Nation's tourism experience on Goat Island, where everyone can discover more about the community's culture through oral storytelling, guided tours, outdoor pursuits and crafts.
TCT also worked with Mississauga First Nation to support the construction of a new accessible greenway between the communities of Mississauga First Nation and Blind River, taking the Trail off a busy highway.
As a donor, you play an essential role in supporting Indigenous leaders as they build and improve trails in their communities.
Tourism experiences at Eskasoni First Nation
You help make the Trail more accessible
We're proud that 80% of Canadians live within 30 minutes of a section of The Great Trail! However, we always look for ways to ensure that everyone can enjoy the Trail in their community, regardless of age or ability.
In Quebec, we were pleased to support our local partners as they upgraded a 400-metre section of the parc linéaire des Bois-Francs near Warwick. This small length of trail was repaved with asphalt, making it more accessible to people with limited mobility.
TCT also helped the community of Elkford, British Columbia, to revamp their existing washroom facilities to ensure they were accessible to people using wheelchairs or other mobility aids.
Your gift today is crucial to funding projects that make the Trail more inclusive and accessible.
The parc linéaire de Bois-Francs, Quebec. Photo by Stéphane Tellier
You fund crucial repairs and maintenance work
In the wake of natural disasters, TCT is ready to step up to fund emergency repairs and maintenance efforts.
After severe washouts forced a section of the Trail near Hampton in New Brunswick to close, TCT provided emergency funding for critical restoration work. Thanks to our collective efforts, this active transportation route is open again – right on time for snowshoeing season!
Meanwhile, a part of the Kananaskis Country Trail in Alberta risked being closed due to damage caused by roots, loose rocks and extensive usage. By supporting local volunteers to complete necessary repairs, TCT helped to keep this beautiful part of the Trail in use.
This year also saw the launch of TCT's very first Spring Cleanup Grant Program, which gave funding to Trail groups to organize clean-up events in their communities.
As our weather systems undergo unprecedented changes, we need your help to protect the Trail from environmental damage – now more than ever.
Volunteers carry out repair work along the Kananaskis Country Trail
You help Trail users find their way
Signage on The Great Trail doesn't just point us in the right direction. It also highlights the history and stories of local communities while reminding us that the Trail connects us from coast to coast to coast.
With the help of local Trail groups, municipalities, Parks Canada and partners, we installed 2,535 kilometres of signage along the Trail across Canada last year! These new signs included wayfinding signs, as well as interpretive panels showcasing the flora, fauna and heritage of the area in which they were installed.
Your support will fuel our work with local communities to ensure we reach our goal of adding updated signage to our entire network.
Signage along the Atlantic View Trail, Nova Scotia
Making a donation to TCT is simple!
Thanks to the generous contributions of donors like you, TCT and its local partners work tirelessly to ensure The Great Trail of Canada remains a legacy that we can all take pride in. Visit our Give page to find out how you can support us today.