29 January, 2017
6 Not to Miss Experiences Along The Great Trail in Ottawa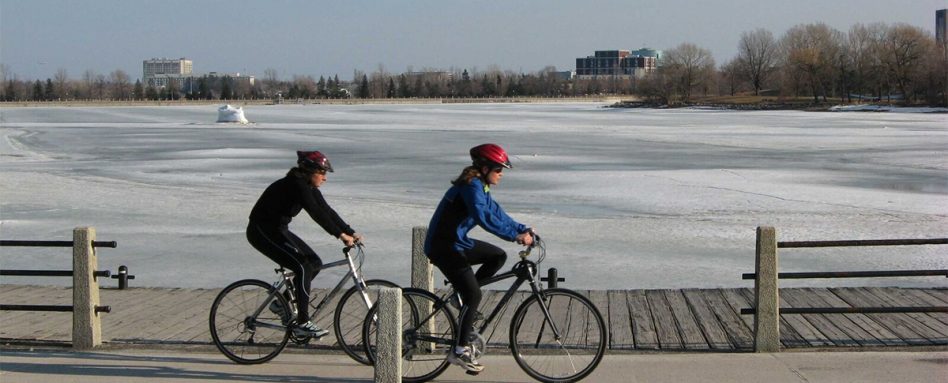 There are a couple of reasons why Ottawa was chosen to become Canada's capital in 1857: because it straddled the main colonies of that time — Quebec and Ontario, and because, as folklore would have it, Queen Victoria saw a watercolour painting that captured the beauty of the area. Either way, we've put together a list of must-see sites and exciting events on The Great Trail to give you a taste of Ottawa's delightful pairings of French and English cultures, sun and snow, and culture and nature.
---
1. Winterlude:
Every February, Ottawa transforms into ground zero for Winterlude, a snowy celebration for all ages. Glide along the Rideau Canal, the world's largest naturally frozen skating rink, and stop to experience a beavertail, a warm sweet treat made from fried dough. Kids will appreciate the Snowflake Kingdom — a playground with ice slides and a snow labyrinth. Winterlude also features a hockey tournament, ice sculptures, outdoor dance parties and a wacky race for beds on wheels. Most activities are free — even the shuttle bus, where you can thaw out while travelling from one winter wonderland to the next.
Photo credit: Matt Boman
2. Gatineau Park:
The Great Trail winds through this 361-square-kilometre nature park on the Quebec side of the Ottawa River, passing by the Mackenzie King Estate. Stroll through the former prime minister's gardens and cottages, and finish by snacking on old-timey scones and sandwiches in the tea room. Further north, the Trail runs along the shores of Meech Lake and Lac Philippe, where you can canoe, kayak or swim at a supervised beach. During the colder months, the rolling Gatineau hills are full of snowshoers and cross-country skiers. Winter shelters are scattered throughout the park so that you can take a break to warm your feet by a fire.
Photo credit: David Russo
3. Remic Rapids Park:
Every summer, this park turns into an art gallery of sorts, when local artist John Ceprano creates amazing sculptures from delicately balanced rocks. You can try your hand at stone art in the designated area, then snap a photo of your creation with Parliament's spires in the distant background. On summer nights, you might happen upon an outdoor "Art on the Rocks" event featuring music, fire-spinning, dance or theatre. Locals also appreciate the spot for the soothing sound of the rapids and the gaggle of Canada geese that have made it their home.
Photo credit: Michel Rathwell
4. The Canadian Tulip Festival:
The capital fills up with close to a million tulip blooms each spring, to commemorate the hospitality shown to the Dutch royal family who took refuge in Ottawa during the Second World War, and the role that Canadian troops played in liberating the Netherlands. The Great Trail passes several tulip beds including Major's Hill Park in Ottawa and Malak's Bed in Gatineau. About 100 different varieties are on display, including the red and white maple-leaf tulip, created in the Netherlands to mark Canada's 150th birthday. Fireworks, street performers and live music are also on the menu.
Photo credit: Ashwin Kumar
5. The Capital Pathway:
The Great Trail connects directly to the Capital Pathway, a network of paths that allow for cycling, walking, running and rollerblading throughout different green spaces in Ottawa and Gatineau. Totalling more than 600 kilometres, the network links museums and other points of interest to downtown Ottawa, with signs to guide you along the way. Many stretches are accessible to people using canes or wheelchairs, and patrollers are around to provide information, first aid or simple bike repairs. Follow the Pathway to the National Gallery of Canada with its Group of Seven collection, the Museum of Canadian History with its giant 3D cinema, or the Central Experimental Farm with its wildlife garden designed to attract and house local butterflies, birds and small mammals, such as foxes and rabbits.
Credit Photo: Peter Blanchard
6. Rideau Hall:
The Great Trail takes a detour through the stately grounds of Rideau Hall, where there are outdoor movie nights every June showcasing English- and French-Canadian cinema. It's also a great spot for a picnic or, during the colder months, a skate around the Governor General's 150-year-old rink. Wondering what being the Governor General is all about? Step inside the residence for a free guided tour. On the way in, see if you can resist the temptation to wink at the straight-faced ceremonial guards. 😉
Photo credit: QUOI Media Group
Ready to see for yourself? Map, measure and track your Ottawa explorations with The Great Trail app powered by Keen for IOS and Android.